Az Arena Mall-lal közös, új projecten belül ezentúl a bevásárlóközpont fogja támogatni az outfit postjaimat. Juhúú:)! Szeptember óta vagyok az Arena stylistja, és ez ismét egy lehetőség arra, hogy tovább erősödjön a kapcsolat. A hatalmas kínálatnak köszönhetően nem volt nehéz kiválasztani e heti kedvenceimet. A szezon egyik sztárja meglepő módon egy ezeréves klasszikus, a ballonkabát. Ez a konkrét darab különösen nagy szívem csücske, hiszen kettő az egyben szabásával kabátként és ruhaként egyaránt funkcionál. Mivel az utcán trencskónak tűnik, de az irodába beérve már egy hagyományos kötényruha, csak egy elől és az ujjakon húzott, hófehér blúzt vettem alá. Kiegészítőim egy különleges díszítésű Furla táska, egy izgalmas fazonú (és meglepően kényelmes) bokacsizma illetve egy cipőmintás, selyemhatású kendő voltak. Ez utóbbi már régóta a ruhatáram részét képezi, és nem csak a nyakban, de a táska pántján szintén szépen mutat. A Keleti Pályaudvarnál az angol stílusú, utazós hangulat miatt pedig magamhoz vettem még egy régen vágyott átlátszó esernyőt és egy kis olvasnivalót is.
———————————
Thanks for a new common project with Arena Mall, the shopping centre will support my outfit posts. Woo-hoo:)! I am the Arena stylist since September and it's also a possibility to strengthen more our connection. There is a huge supply, so I didn't have a big problem with the selection of this week favourites. Surprisingly one of the stars of the season is a thousand year classic, the trench coat. This concrete piece is a real apple of my eye because it has a two-in-one cut, so you can wear it as a coat or a dress. It seems like a trench coat on the street, but in fact it can be a traditional jumper dress in the office, that's why I put on just a snow white blouse with pleated details on the front and the sleeves. My accessories were a special decorated Furla bag, exciting shape (and surprisingly comfortable) ankle boots and a shoe patterned, silk effect scarf. The last one is an older piece in my wardrobe and it looks very nice on the neck and on the strap of a bag as well. At the Eastern Railway Station for the English style travelling mood finally I took a long time wanted transparent umbrella and some readings too.
Ballonkabát / Trench coat: Benetton
Blúz / Blouse: Promod
Táska / Bag: Furla (saját / mine)
Cipő / Shoes: CCC
Kendő / Scarf: saját / mine
Óra / Watch: Daniel Wellington
Esernyő / Umbrella: Butlers (saját / mine)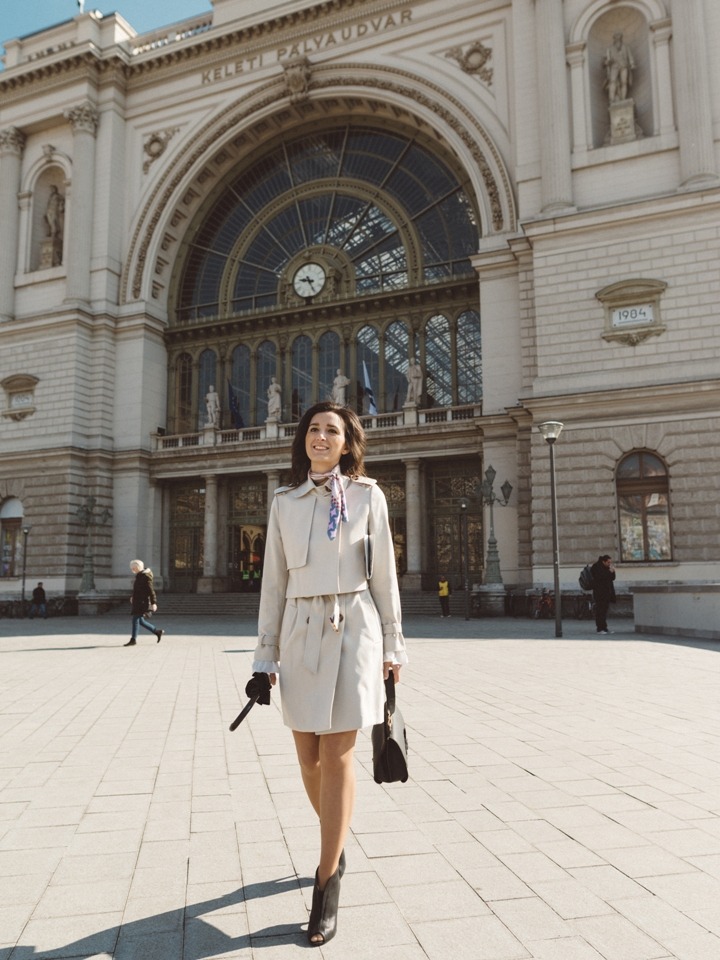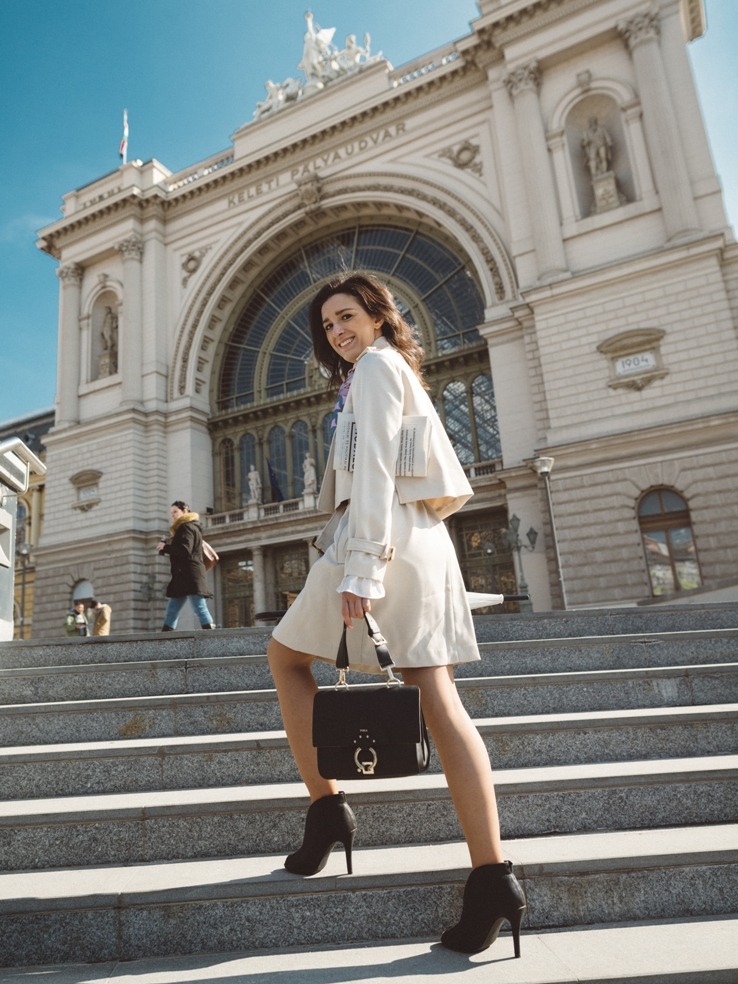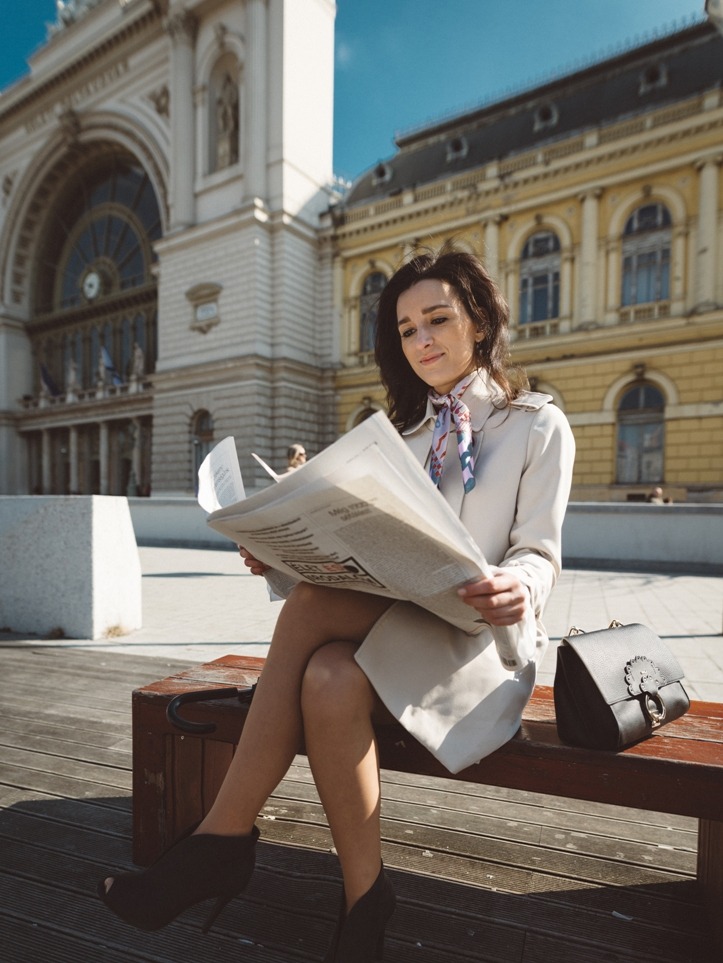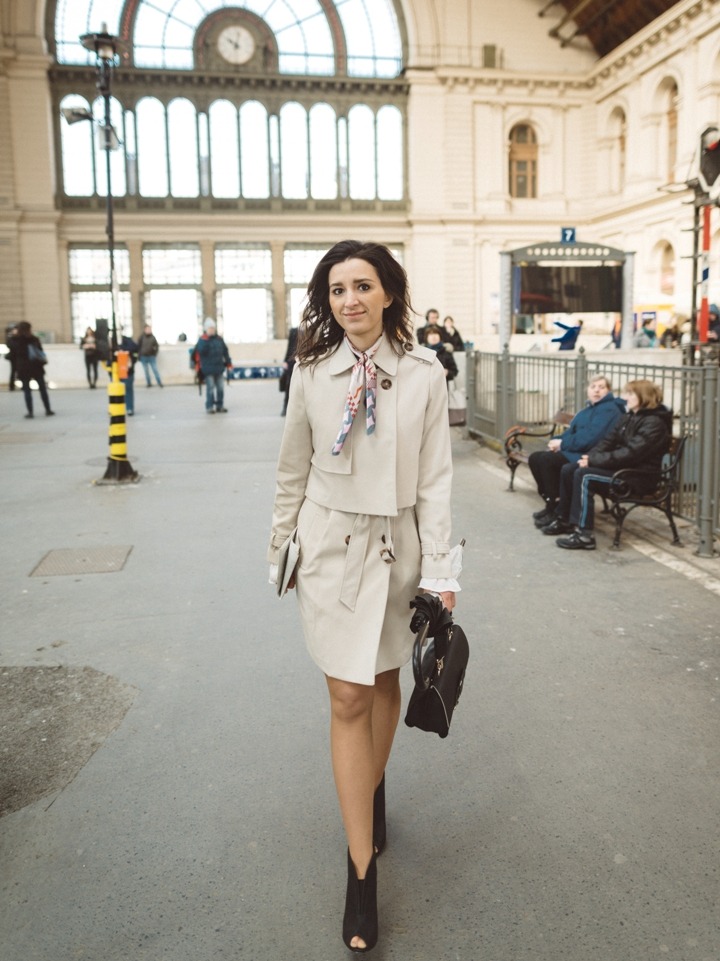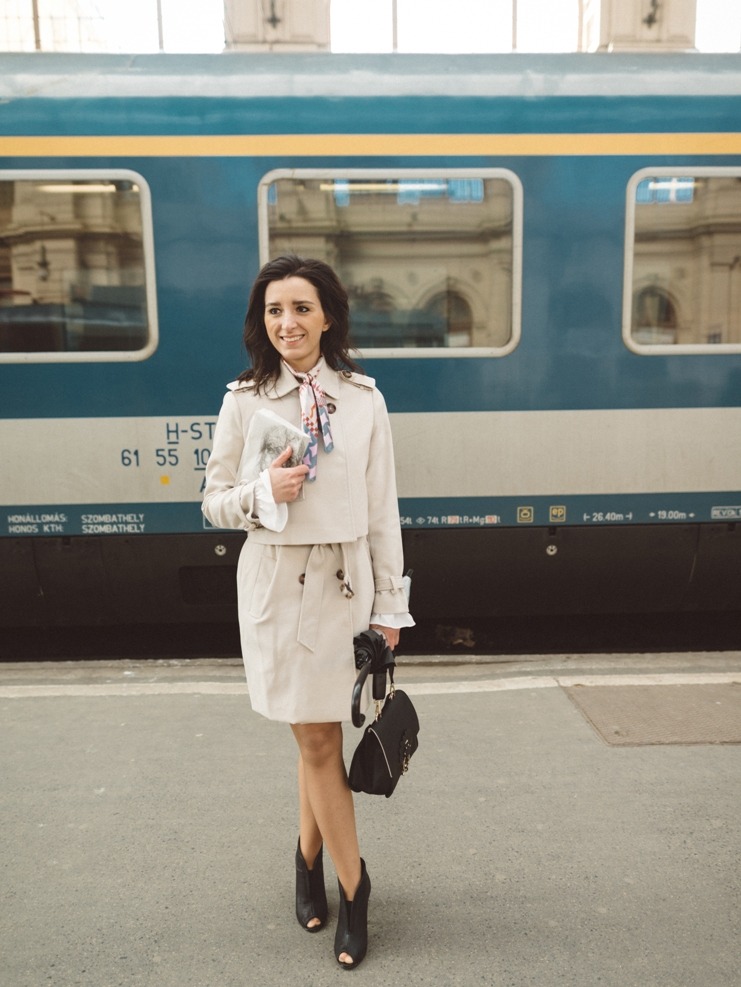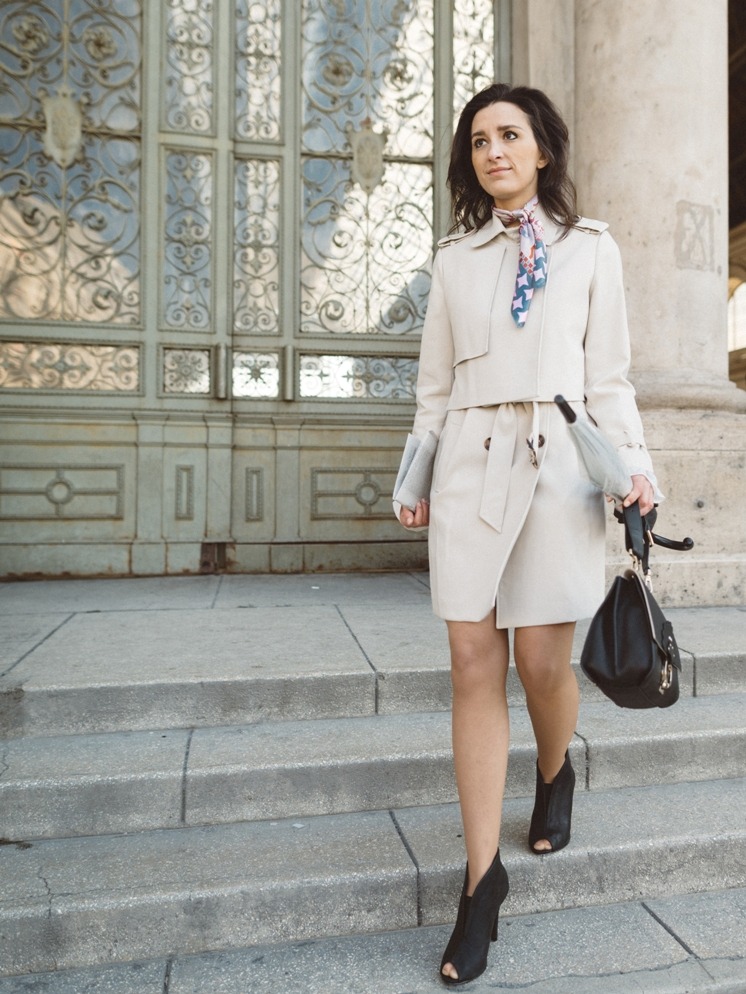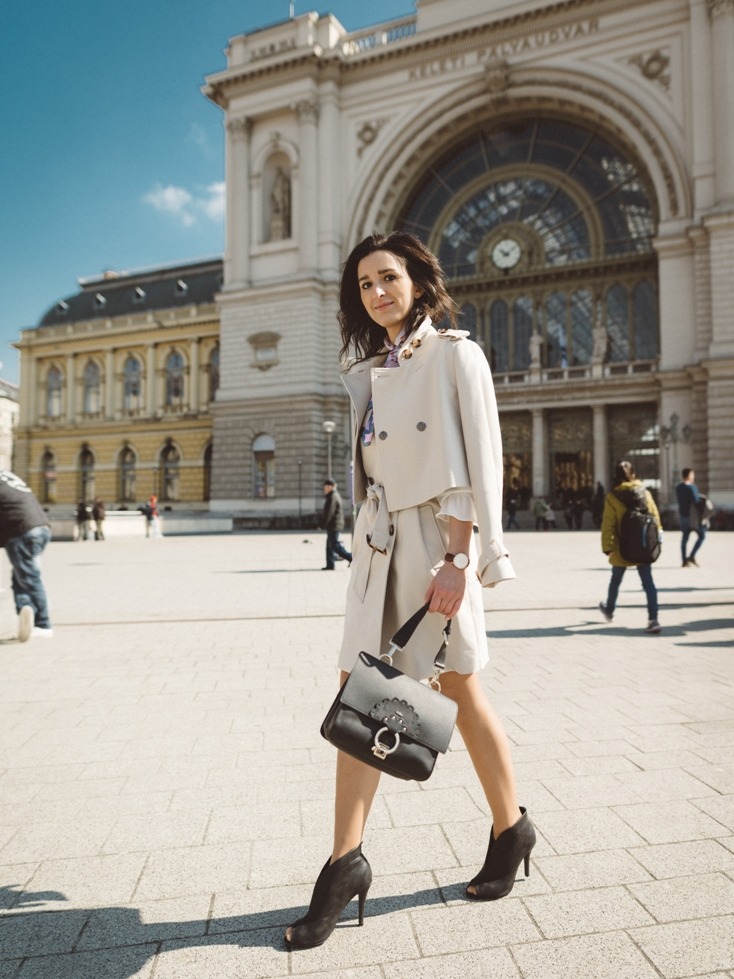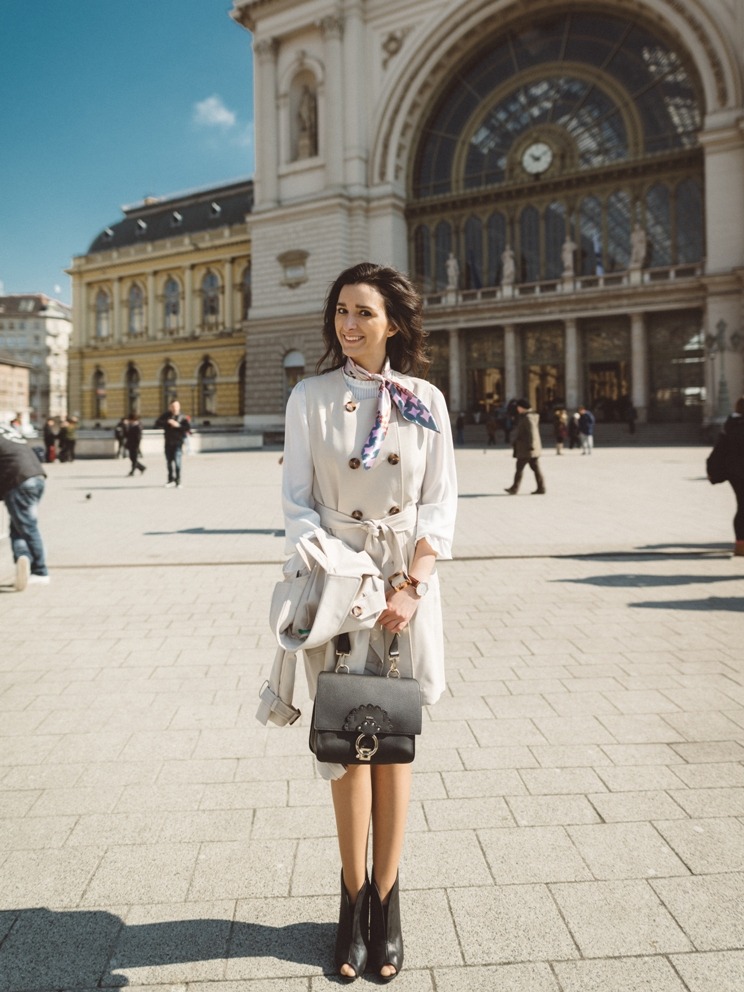 Photo: Horváth Tamás
A postot támogatta az ARENA MALL.