A business look, a feminizmus, de mindenek előtt a rózsaszín iránti szerelmem jegyében született meg legújabb fotósorozatom a Bálnánál. Szerencsére a hétköznapokon nem kell ennyire elegánsan öltözködnöm, jobban preferálom a lazább, vagányabb ruhákat, de ha hordanék nadrágkosztümöt, az egészen biztosan épp ilyen lenne. A változatosság kedvéért rendhagyó outfitem tartalmazott még egy pöttyös blúzt, ami most rendkívül divatosnak számít, arról nem is beszélve, hogy a világ egyik legstílusosabb párosa a fekete-fehér minta plusz valamilyen élénk szín kombinációja. A cipőm a tavaszi-nyári átmeneti időszakhoz igazodva egy félig nyitott, félig zárt változat volt, eye candy táskám pedig szintén ezt a szezont idézte trópusi virágmintájával. Mivel a hűvösebb rózsaszín női öltönyömhöz a hidegfényű ékszerek passzoltak a legjobban, egy ezüstszínű órát, karkötőt és gyűrűt választottam melléjük. A szigorú business lookot tovább lazították, és ezáltal megfelelőképp ellensúlyozták  az egyértelműen a nyárt képviselő, flamingó, ananász és dinnye formájú kitűzők.
———————————
My latest photo series was made at the ,,Whale" in the name of business look, feminism and mainly my love for pink. Fortunately, I usually don't have to wear elegant dresses, I prefer cooler clothing, but if I wore a pantsuit it surely would look like this. My irregular outfit contained a spotted blouse too that's very fashionable now and I think the black n white pattern plus a bright colour duo is one of the most stylish couple in the world. My half opened-half closed shoes and my eye candy bag with the tropical flowers absolutely fit for the spring-summer transition season. The cold light jewellery look good with any cold shade dresses, so I chose a silver watch, bracelet and ring for my cool pink female suit. The obviously summer vibe flamingo, pineapple and watermelon shaped badges made my strict business look much more cooler and they compensated it perfectly at the same time.
Nadrágkosztüm / Pantsuit: Orsay
Blúz / Blouse: Orsay
Táska / Bag: Musette
Cipő / Shoes: CCC
Kitűzők / Badges: Promod
Óra / Watch: Parfois
Karkötő és gyűrű / Bracelet and ring: Promod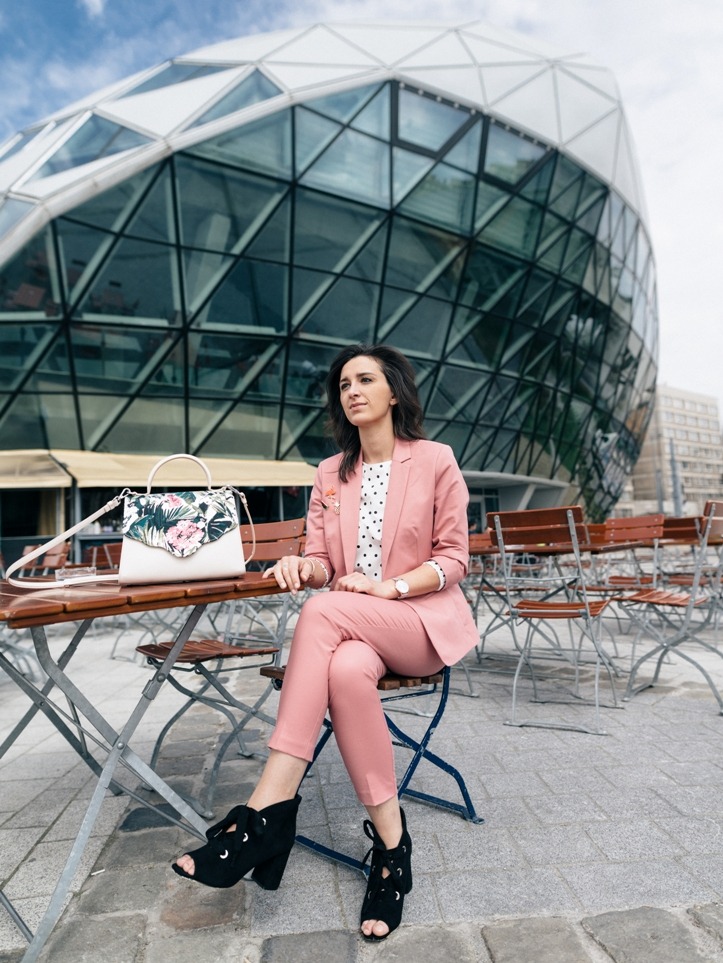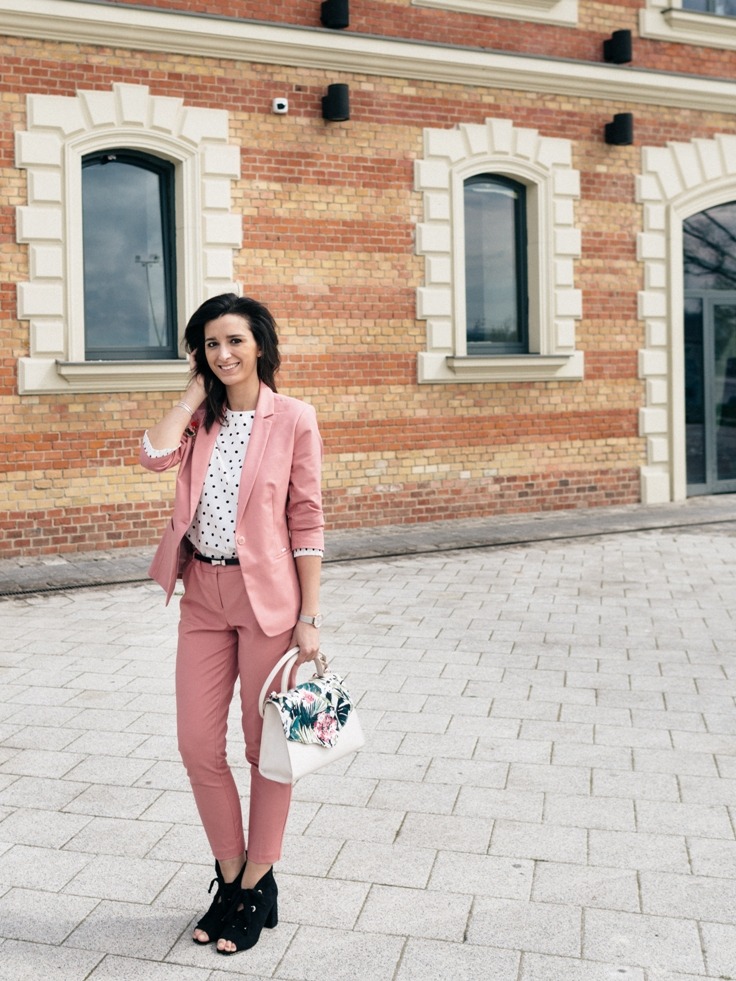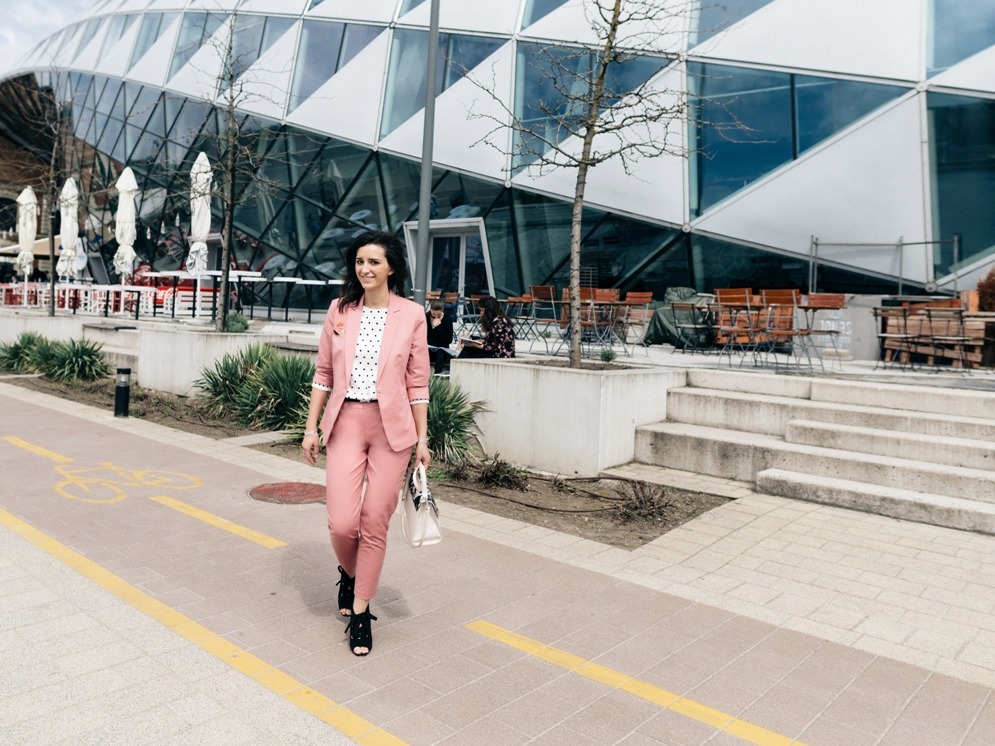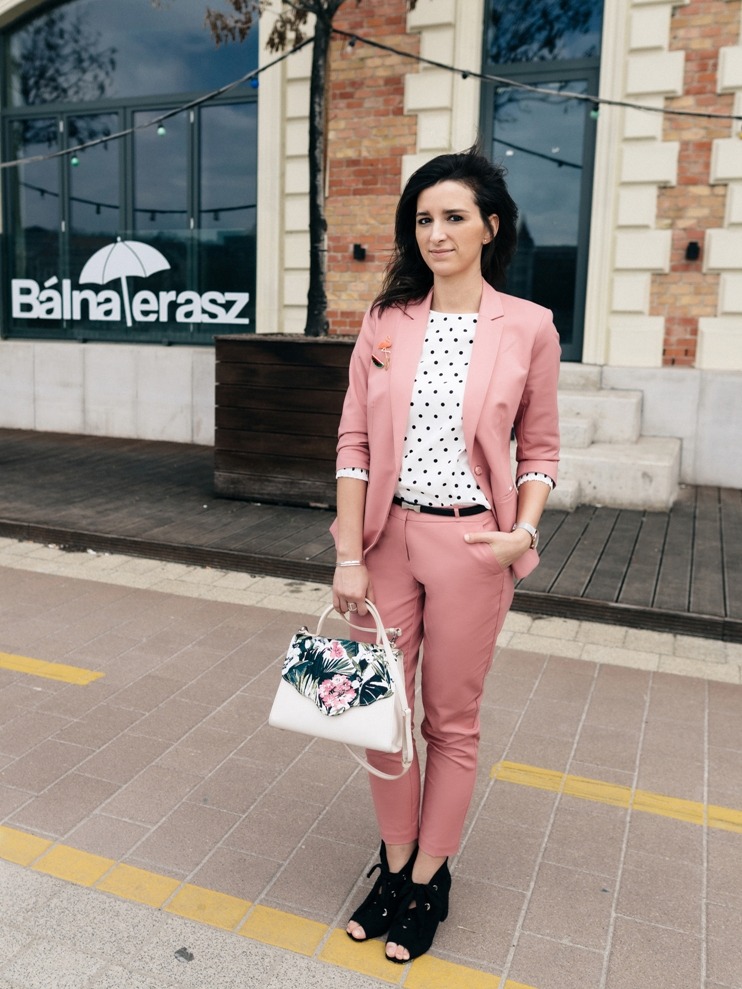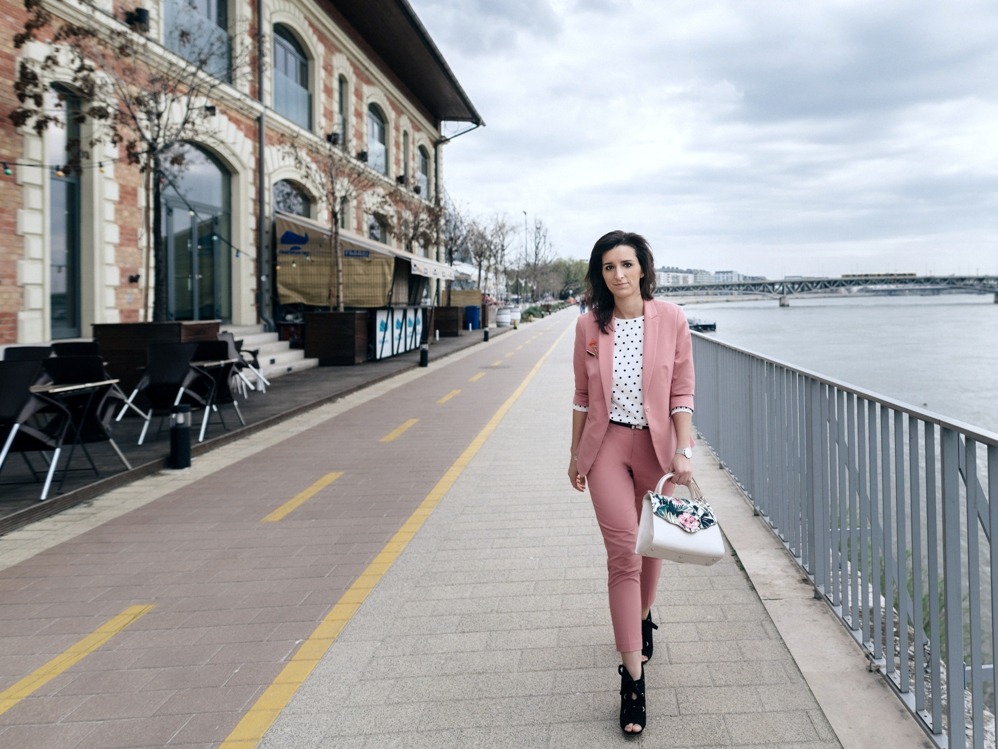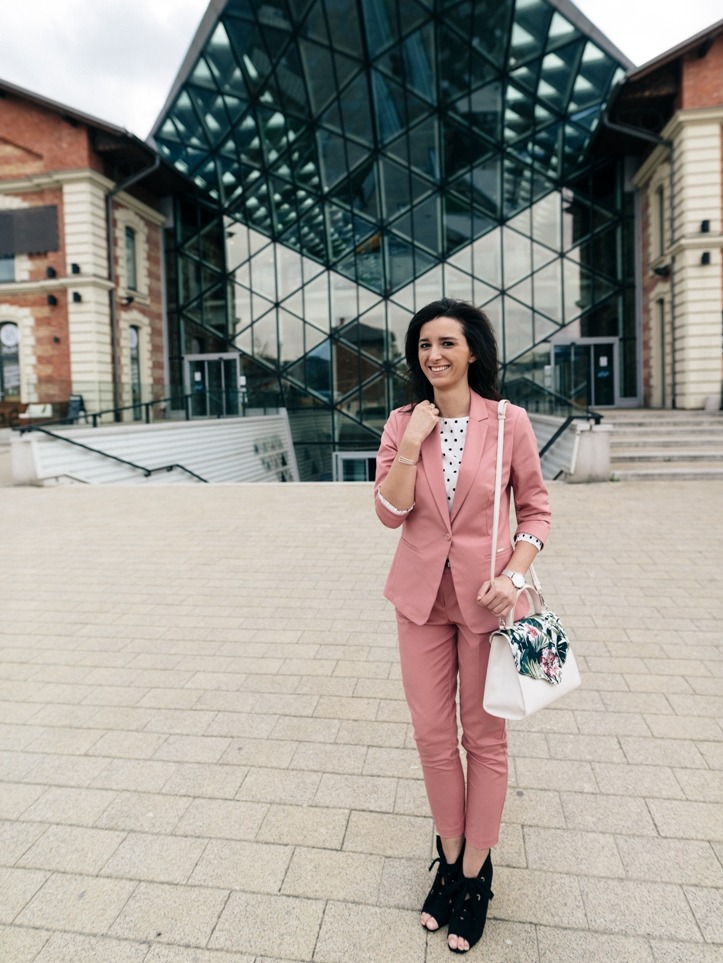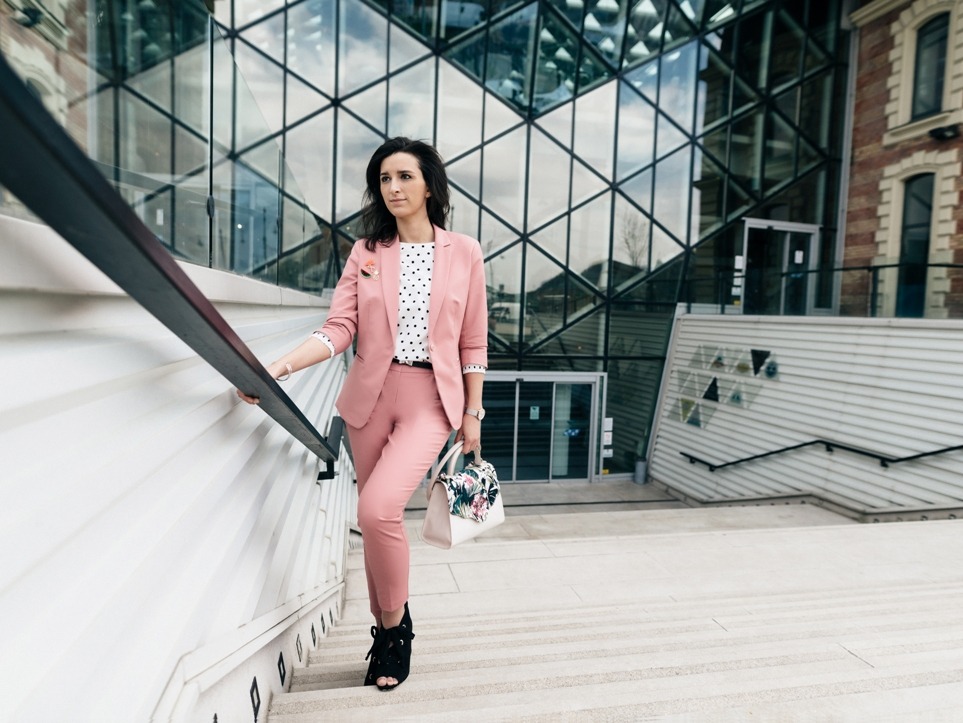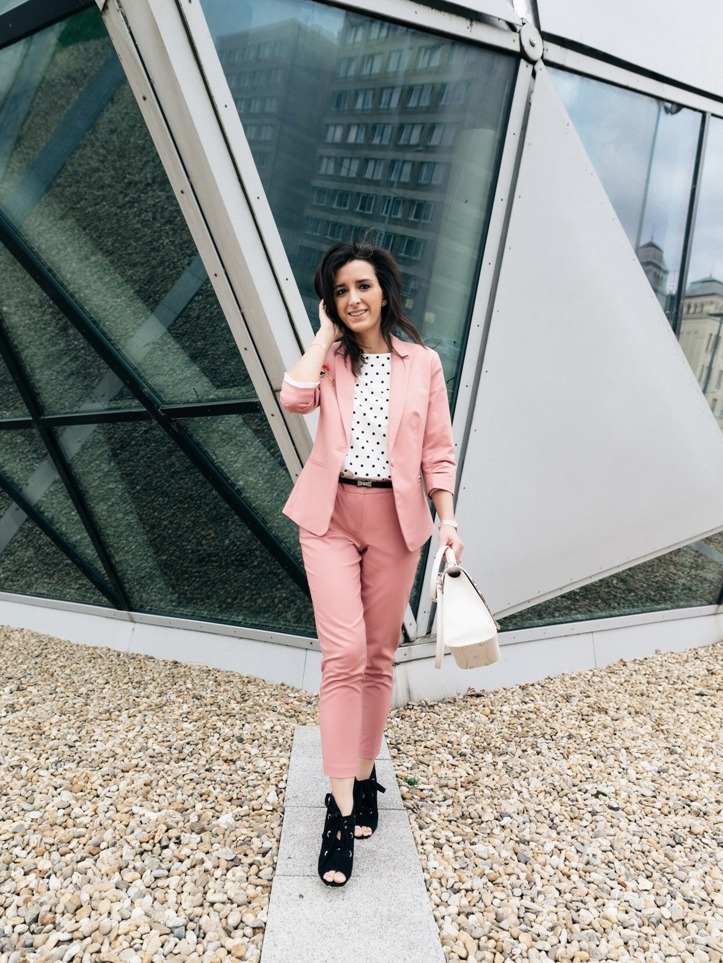 Photo: Horváth Tamás
A postot támogatta az ARENA MALL.