Egyik nap hazafelé menet pillantottam meg a hatalmas BUDAPEST installációt a Hősök terén, és ez rögtön megadta az ötletet a következő fotózásomhoz. Sajnos a rengeteg turista miatt alig fértünk hozzá, de azért a lehetőségekhez mérten igyekeztük kimaxolni a helyzetet. A felirat mellett a szépséges Műcsarnok biztosította a hátteret. Az outfitemről pedig az egyik napról a másikra hatalmasat változó időjárás gondoskodott, ami nem is egyszerűen tavaszi, de szinte azonnal nyári hangulatba hozott. Ez által született meg a citrom mintás pulóverből, hajókötél öves paperbag nadrágból, fonott bambusztáskából és csíkos espadrille cipőből álló, tengerész stílusú megjelenésem. A paperbag nadrággal már régóta szemezek, és most jól be is vállaltam, mert valljuk be, bátorság kell egy bő szabású, fehér nadrág viseléséhez. A bővebb alsókhoz alapvetően érdemes szűkebb felsőket választani, ami által megvalósul a francia nők preferált öltözködési szabálya. A hab a tortán egy több soros, aranyszínű karkötő volt, ami kedves csilingelésével nagy kedvenceim közé tartozik.
———————————
One day on my way home I saw a huge BUDAPEST installation on Heroes' Square and that suddenly gave me the idea for my next photo shoot location. Unfortunately we couldn't get so close to it because of many tourists, but we tried to do our best. Besides the installation the beautiful Palace of Exhibitions ensured the background. And my oufit was due to the unbelievable whimsical weather that caused not just simply a springlike but a real summerlike vibe almost immediately. That's how my navy style look was born that contained a lemon patterned sweater, mooring belt paperbag trousers, a braided bamboo bag and striped espadrille shoes. I searched for good paperbag trousers for a long time and I think I was very brave when I chose exactly this one because it's not just a loose cut, but a white coloured version. I basically propose tighter tops to looser lowers as French women's number one fashion rule also says. The topping on my cake were the multiple bracelets that I like very much because its nice jingle.
Pulóver / Sweater: Springfield
Nadrág / Trousers: Springfield
Táska / Bag: Pepe Jeans
Cipő / Shoes: GANT
Karkötő / Bracelet: Promod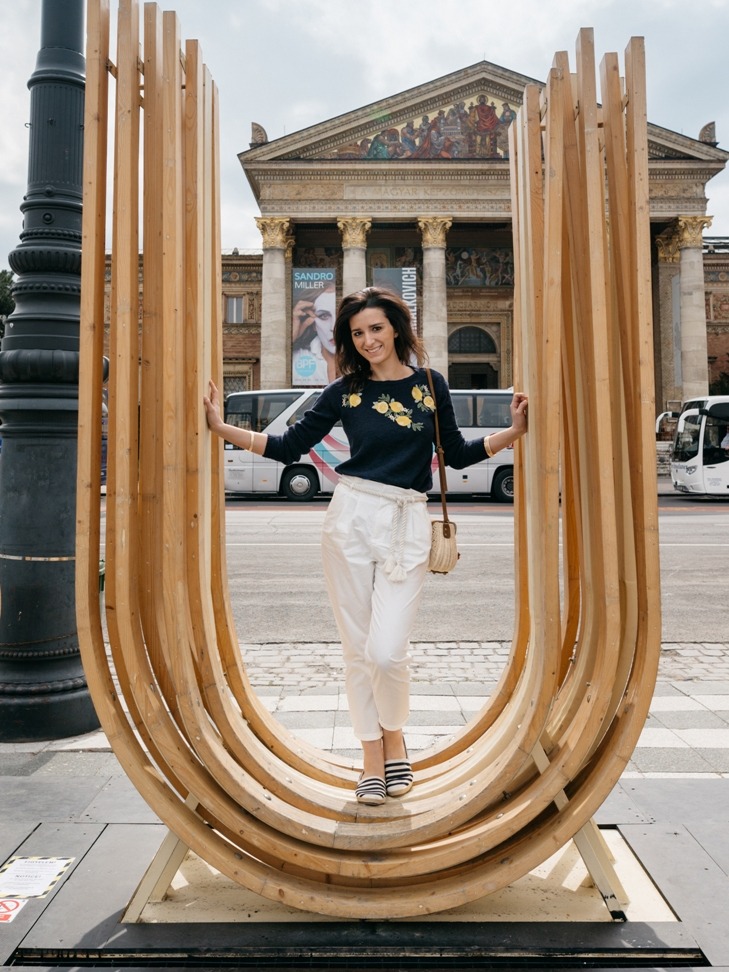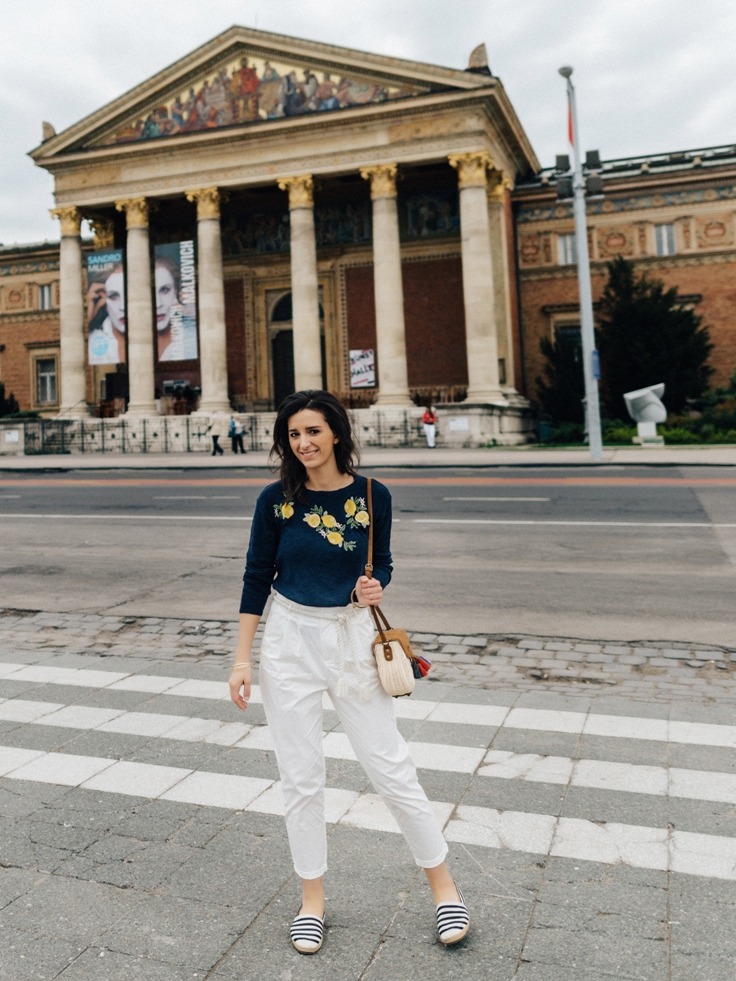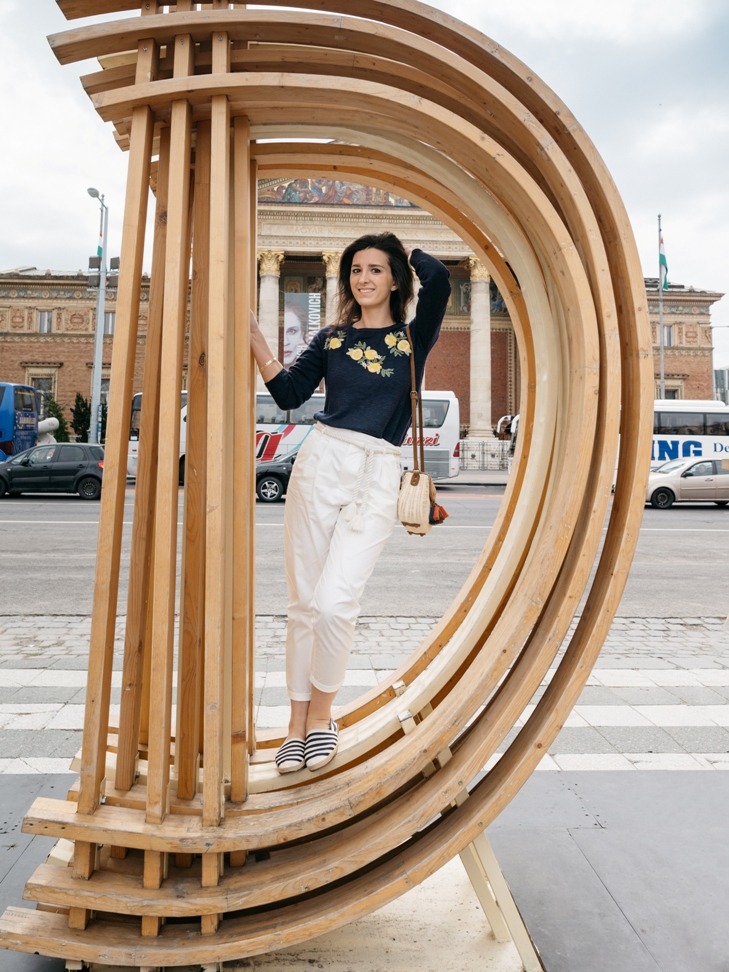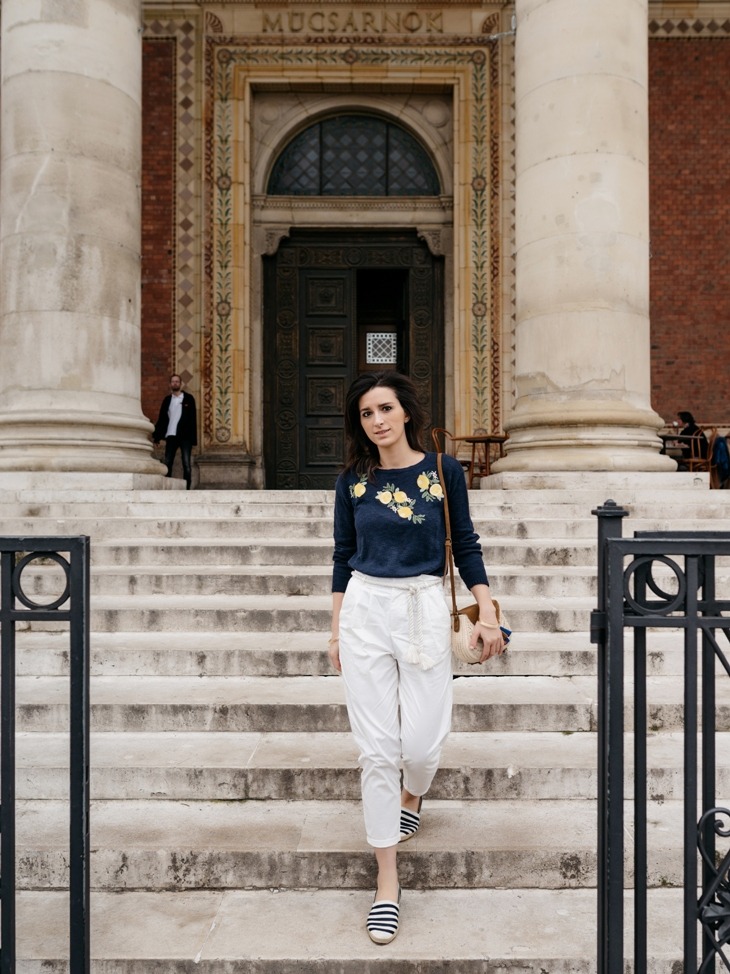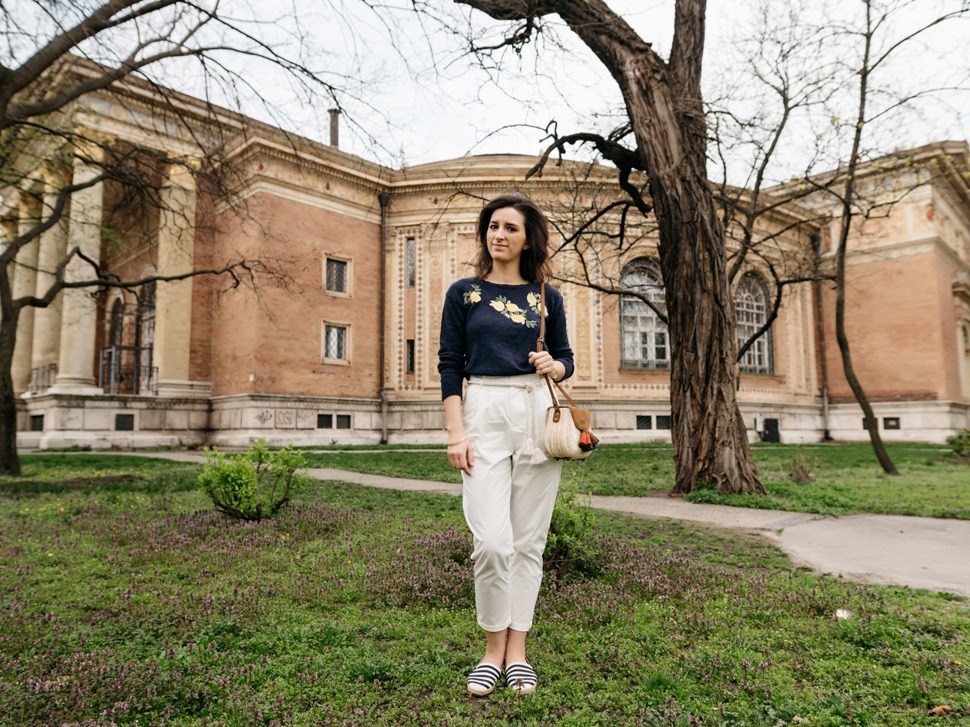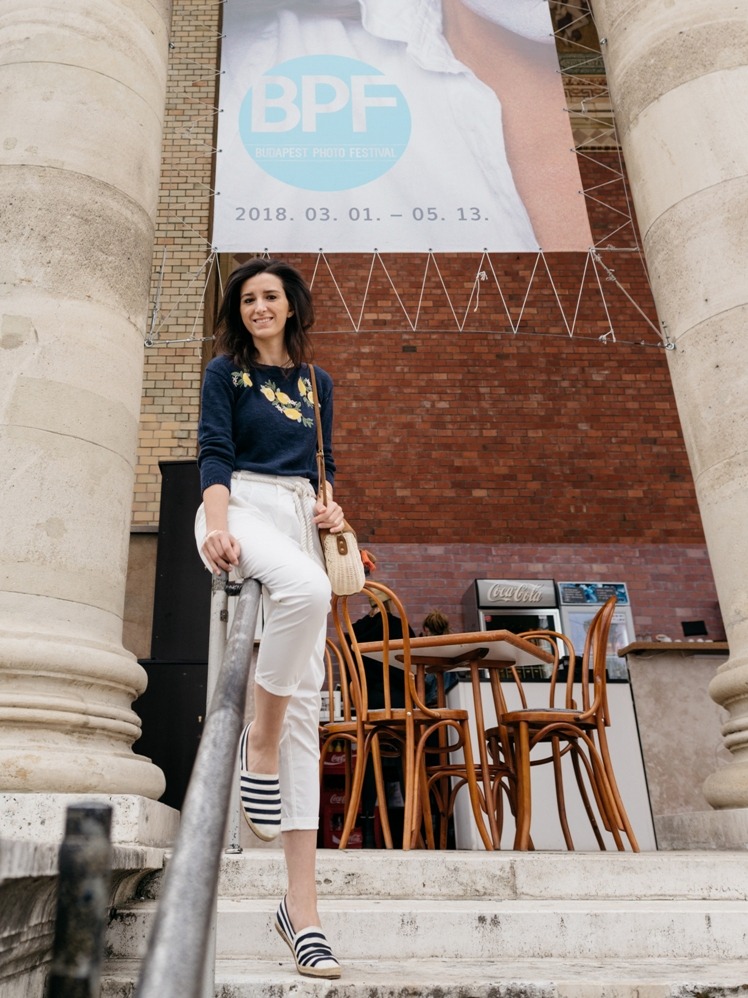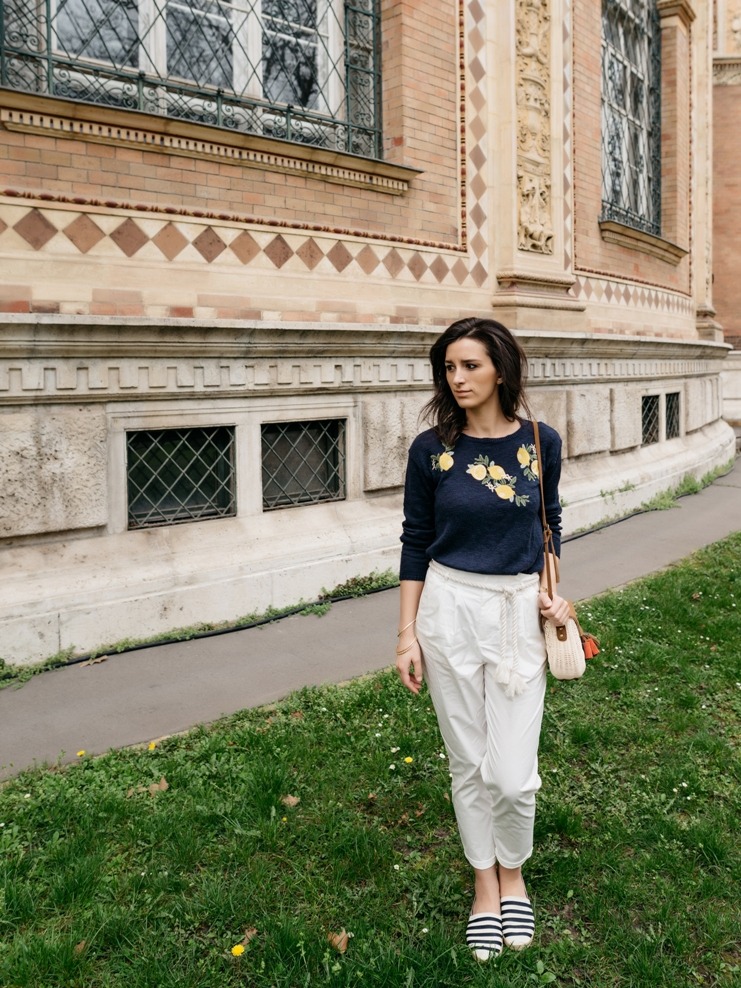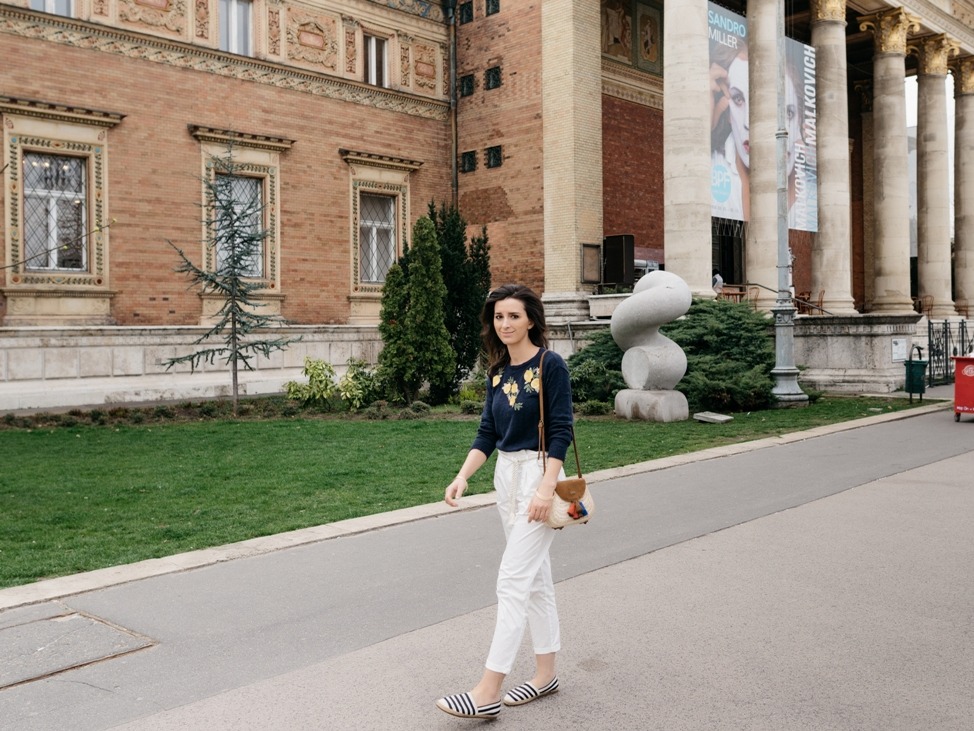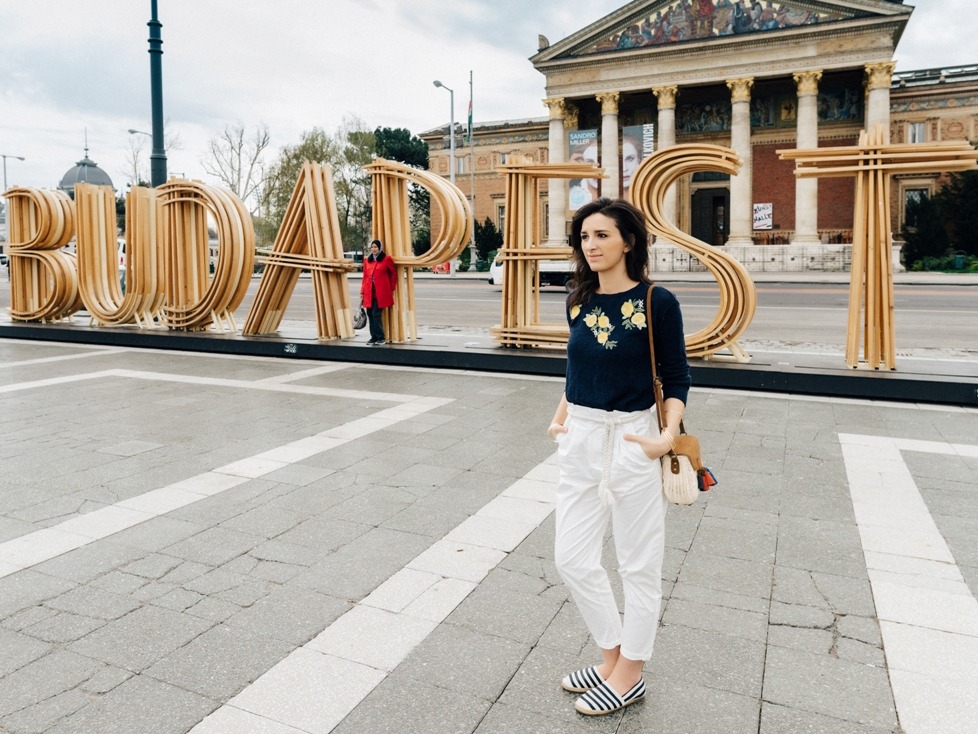 Photo: Horváth Tamás
A postot támogatta az ARENA MALL.