Magyarul az a kis plusz, amitől valakinek magával ragadó lesz a személyisége. Most ennek elérésével próbálkoztam meg. Legújabb fotósorozatommal egy verseny keretein belül kellett megvalósítanom saját francia koncepciómat, azaz olyan outfitet megalkotni, amit egy párizsi nő is szívesen viselne. A francia hölgyek mindig olyan benyomást szeretnének kelteni, mintha csak magukra kaptak volna valamit, pedig valójában általában hosszas munka előzi meg a komplett image kitalálását. Ezzel én is épp így voltam, az ők idealizált stílusukat a kicsit rockosabb stílusommal akartam keverni. Az öltözetem részei így a következők lettek: tengerészsapka, tengerészkabát és feliratos, breton csíkos pulóver a francia hangulat jegyében, illetve bőrnadrág, szegecses táska és magas sarkú bakancs a rockos hangulat kedvéért. Mindezek mellé még néhány aranyszínű ékszert választottam, amik szépen harmonizáltak többi darabom részleteivel. A helyszín pedig a csodálatos Pavillon de Paris volt, ami teljessé tette az elképzelést. Mit gondoltok? Sikerült elérnem a ,,je ne sais quoi" érzést?
———————————
Also known as the little plus thing that makes somebody's personality so appealing. I tried to reach it. On the newest photo shoot I had to realize my own French conception for a competition, create an outfit what a Parisian woman could wear with pleasure. French women always want to seem like they just pick up some dresses, but in fact they usually work a lot to figure out the complete image. I also worked a lot with my set, I would have liked to mix their idealized style with my more rock style. So the parts of my clothing became: a navy cap, a navy coat, a breton striped sweater with text for the French vibes and leather pants, a studded bag, high-heeled combat boots for the rock vibes. Besides them I chose some gold color jewelry that harmonized well with the details of my pieces. The place was the beautiful Pavillon de Paris that made the idea complete. What do you think? Could I reach the 'je ne sais quoi' feeling?
Kabát / Coat: Zara
Pulóver / Sweater: Promod
Bőrnadrág / Leather pants: Zara
Sapka / Cap: H&M
Táska / Bag: Gino Rossi
Cipő / Shoes: Högl
Karkötők / Bracelets: Parfois
Gyűrű / Ring: Promod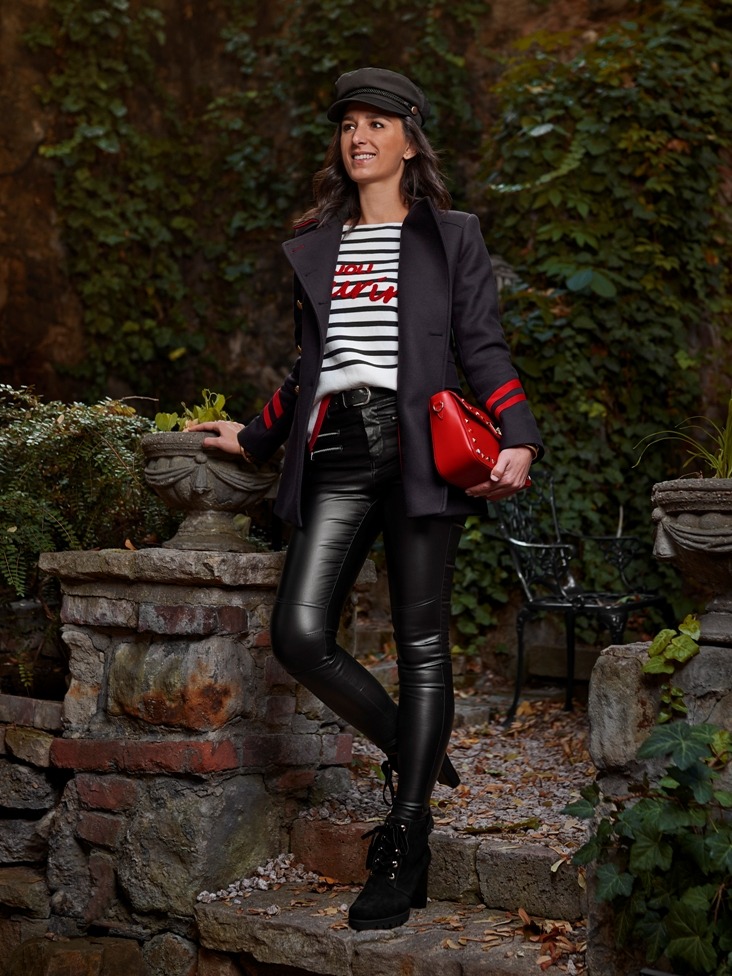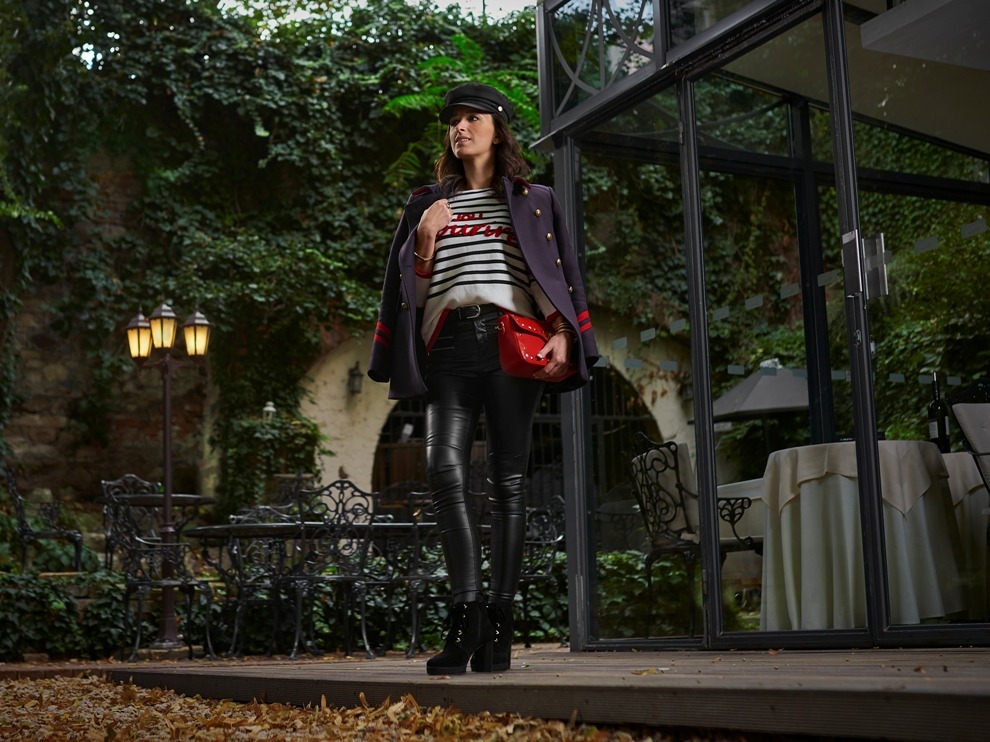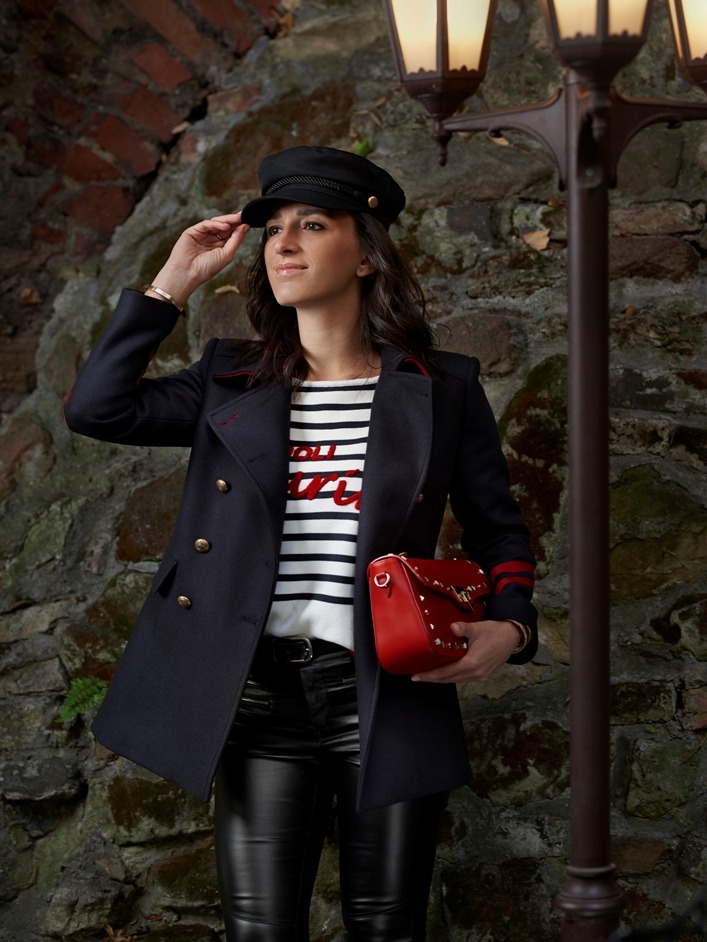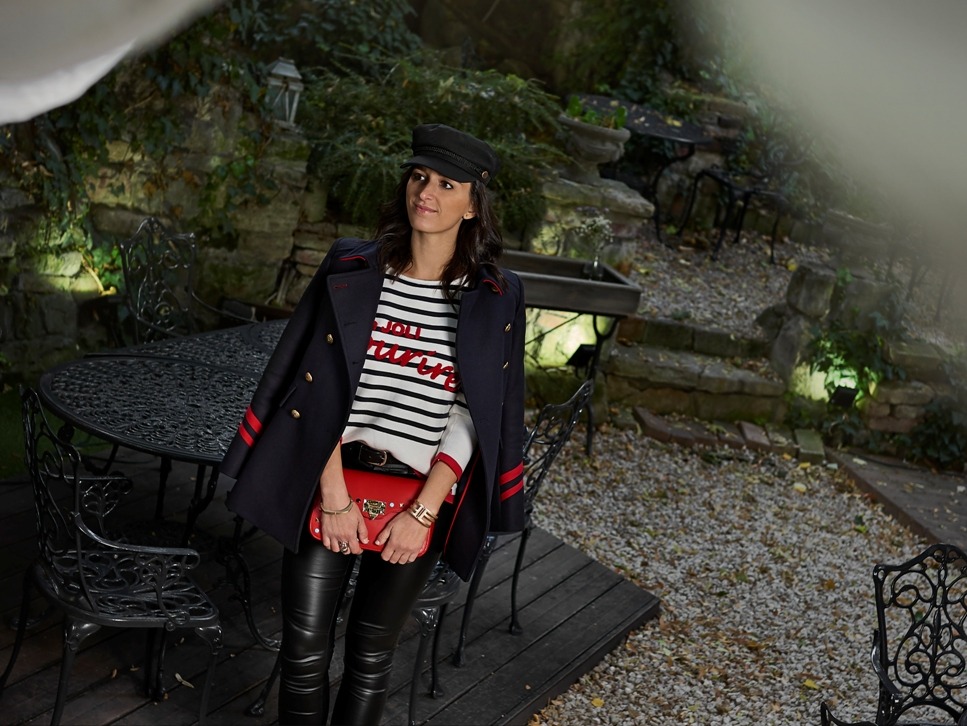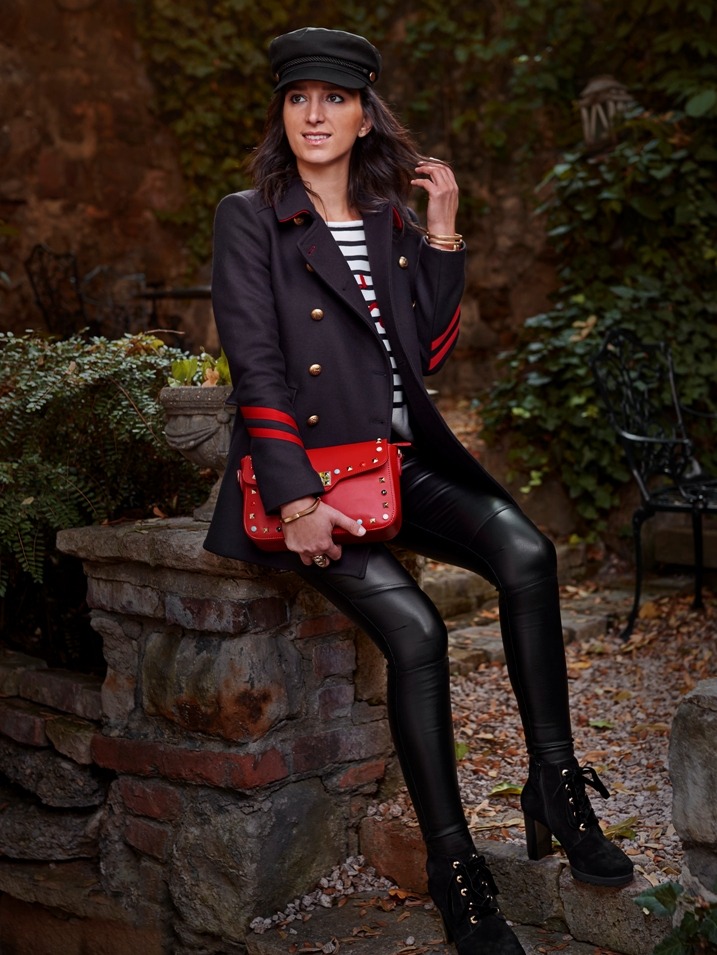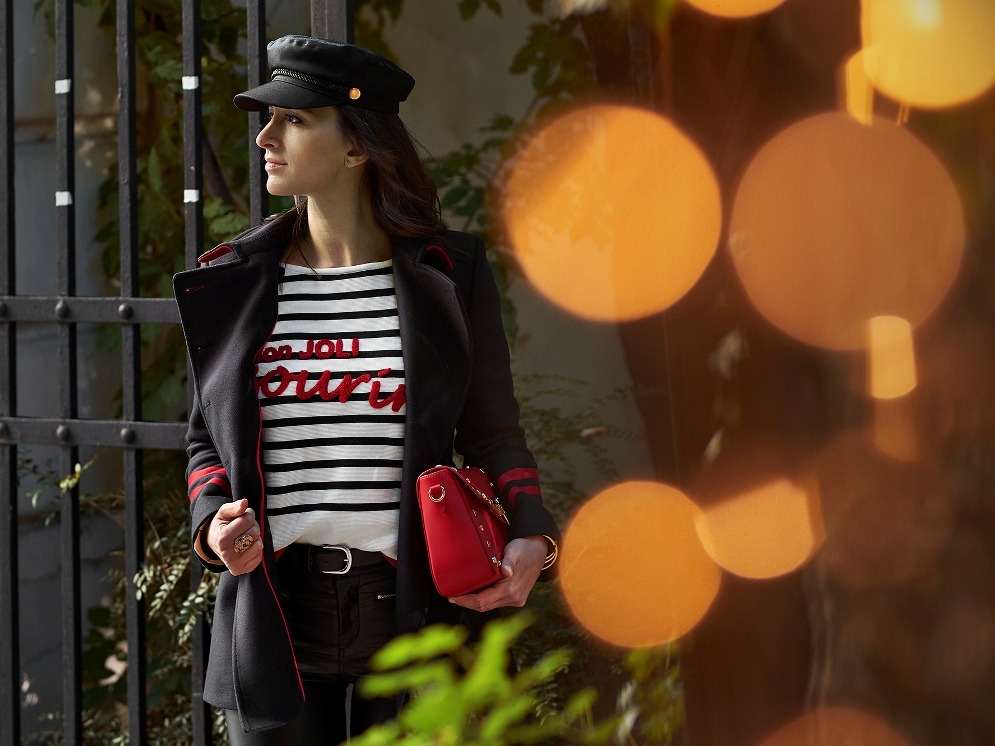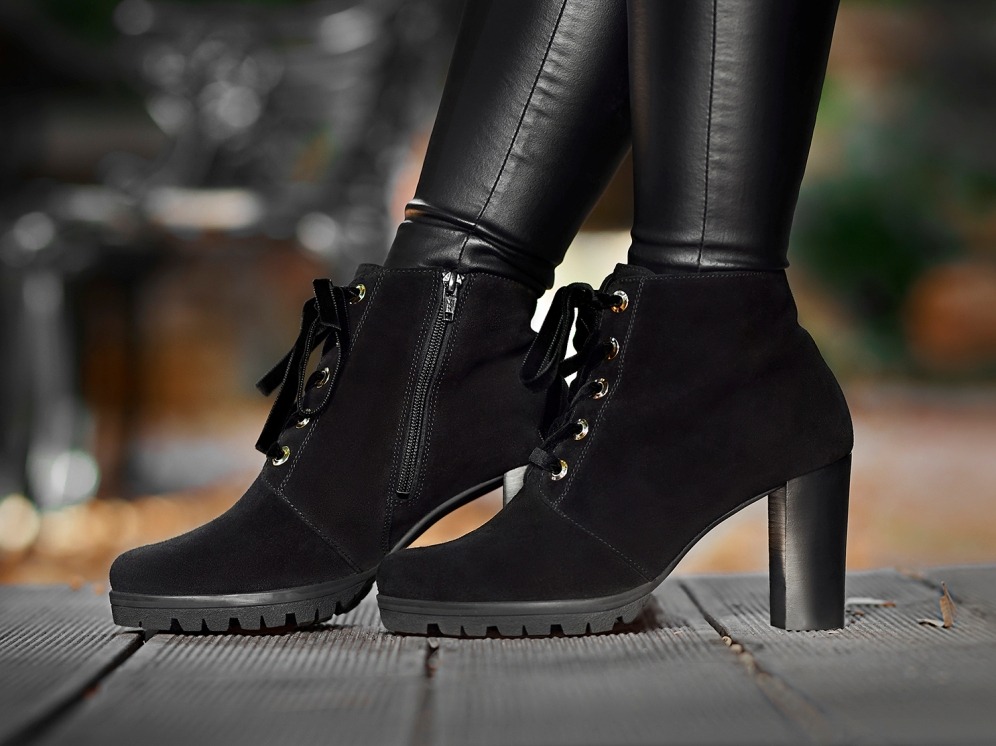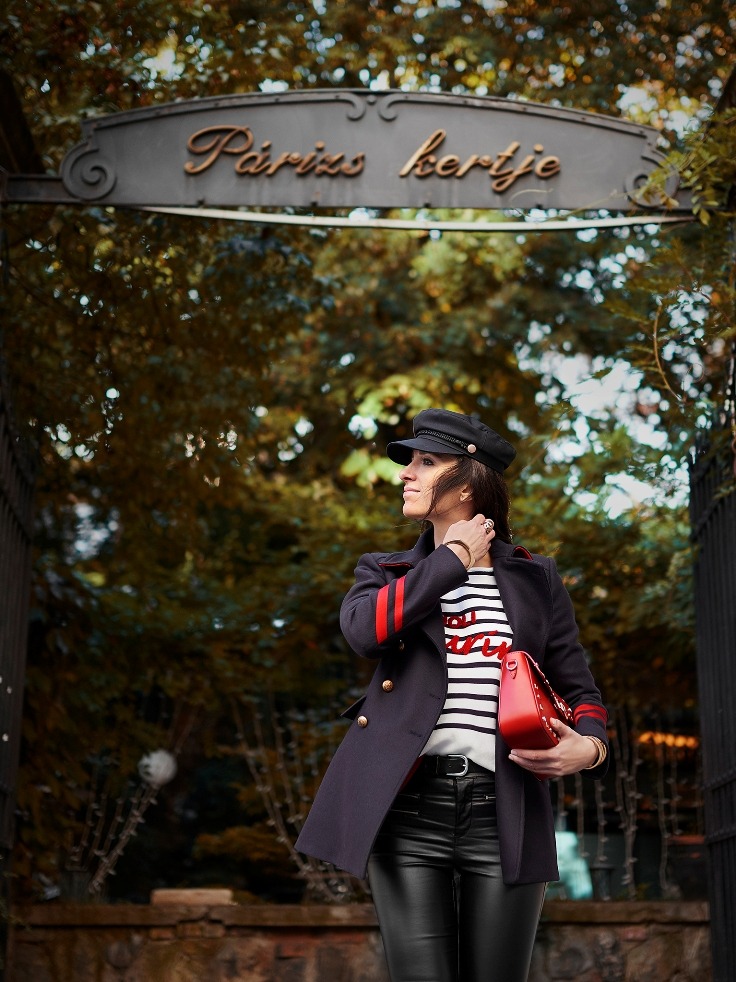 Photo: Kiss Márk
A postot támogatta az Arena Mall.