A nyár mániája a trópusi minta, az enyém pedig a Fővárosi Állat- és Növénykert. E kettő jól megfért egymás mellett, sőt kifejezetten szuper párost alkottak. A természetes környezetben én is természetesebben mozogtam, és ez azt hiszem, meglátszik a mosolyomon. Trópusi mintás darabok közül egy bő ujjú, szalagöves, átlapolós ruhát választottam. Figyelem, ez a szabás szinte mindenkinek jól áll, úgyhogy bátran vessük bele magunkat a dzsungelébe! Karakteres outfitem mellé már csak néhány vele harmonizáló kiegészítőre volt szükségem. Így például a nyár slágerére, a kerek alakú szalmatáskára, amit én még egy, a ruha mintáját idéző kendővel is feldíszítettem. Ha most divatos akarsz lenni, akkor egy ilyet tuti be kell szerezned! Az ékszerek szintén nagy segítségemre voltak a déli életérzés továbbfokozásában, legyen szó a többsoros nyakláncról, a vibráló karkötőkről vagy az ananász díszes gyűrűről. Nem is beszélve elsőszámú kedvencemről, az ugyancsak szalmából készült, levél formájú legyezőről, ami végképp biztosított a trópusi hangulatot.
———————————
The mania of the summer is the tropical pattern and my mania is the Budapest Zoo. These two matched well to each other, moreover they were a really good couple. As you can see on my smile I felt myself very naturally in the natural surroundings. I chose a wrap dress with loose sleeves and ribbon belt out of the tropical patterned pieces. Warning, this cut is appropriate for almost all of the body types, so let's jump into its jungle! Next to my characteristic outfit I needed only some harmonizing accessories. For example the star of the summer, the round shaped straw bag that I decorated with an also tropical patterned scarf. If you want to be fashionable now, you have to get one from these! The jewellery helped me as well to enhance further the south lifestyle, even if it's the multiple necklace, the vibrant bracelets or the pineapple ring. But my number one favourite was absolutely the also straw made, leaf shaped fan that ensured the tropical vibe completely.
Ruha / Dress: Mohito
Táska / Bag: Springfield
Nyaklánc / Necklace: Promod
Karkötők / Bracelets: Promod
Gyűrű / Ring: Promod
Kendő / Scarf: Mohito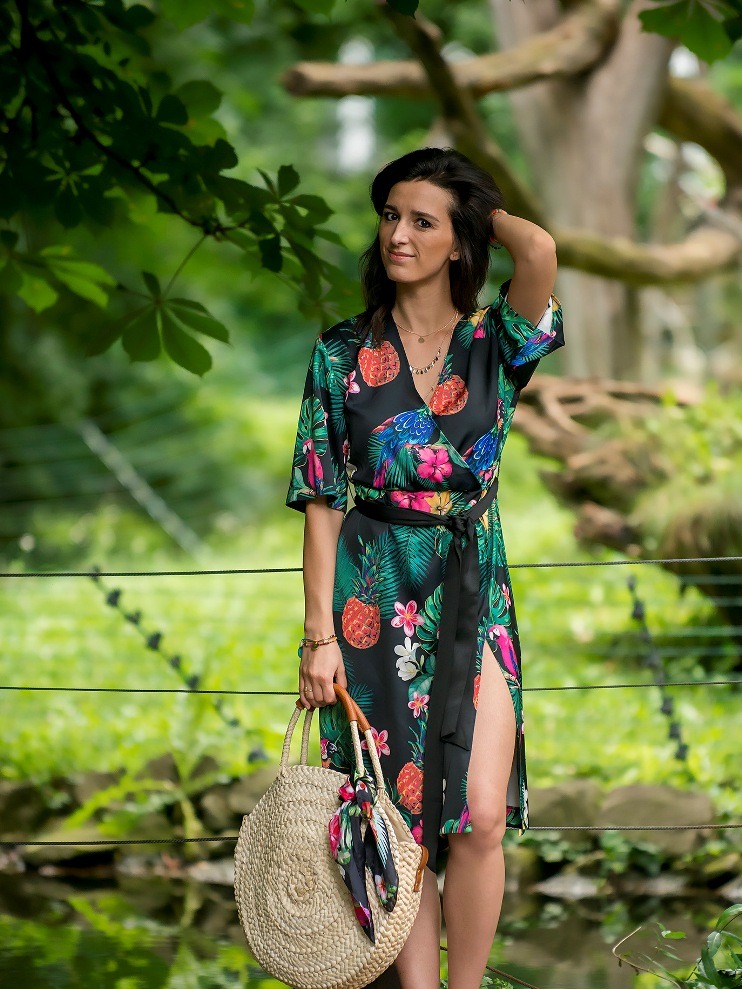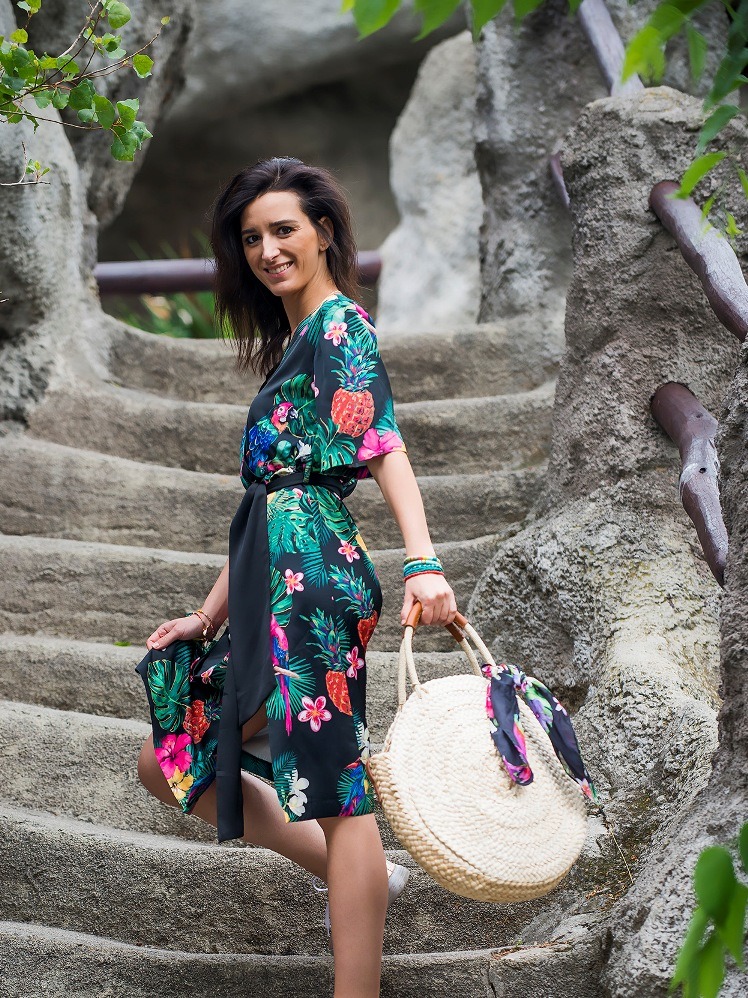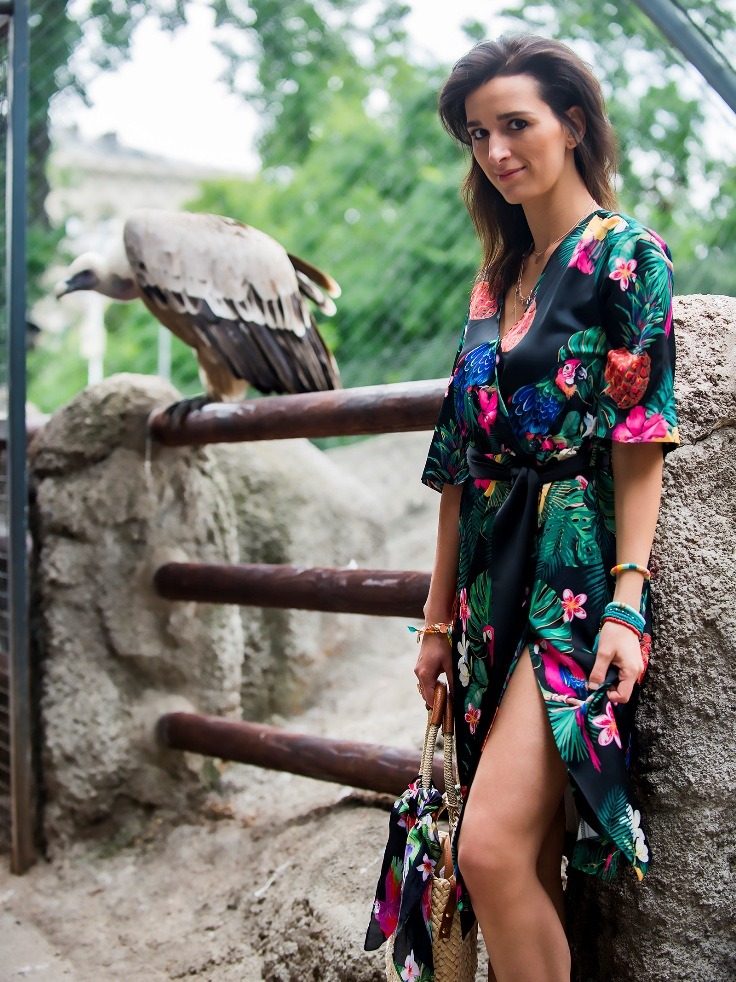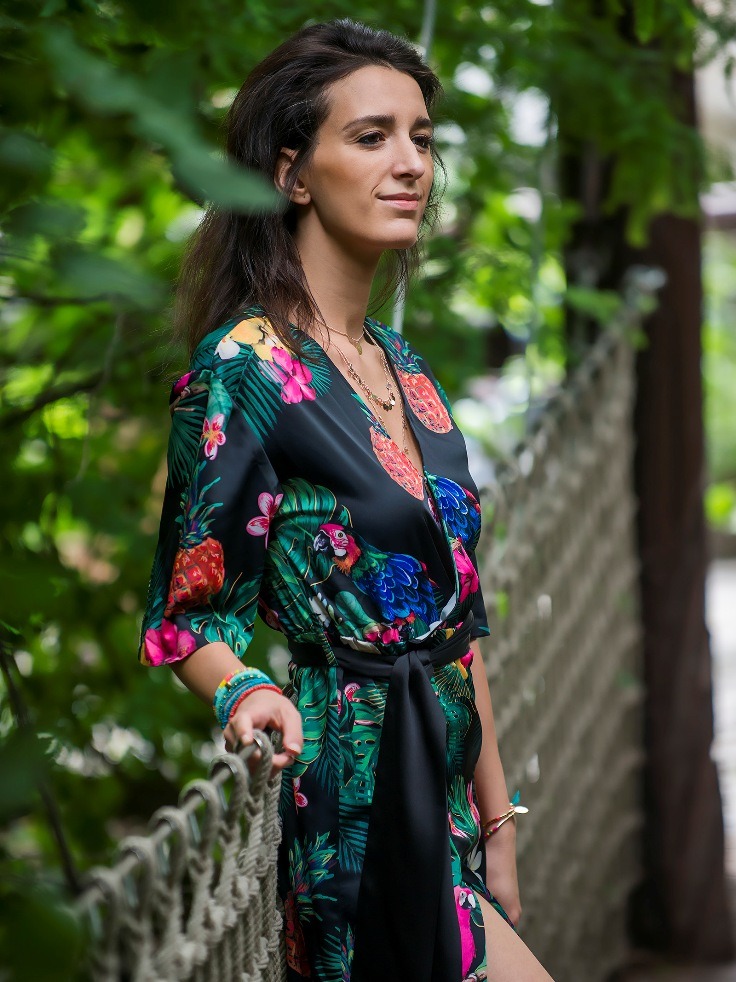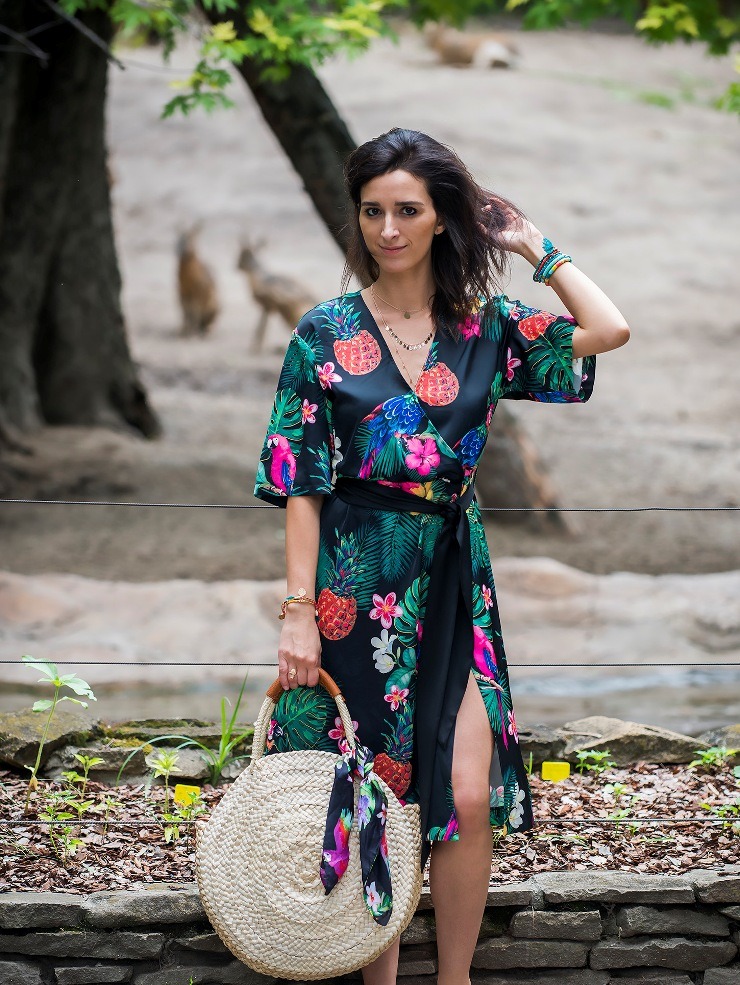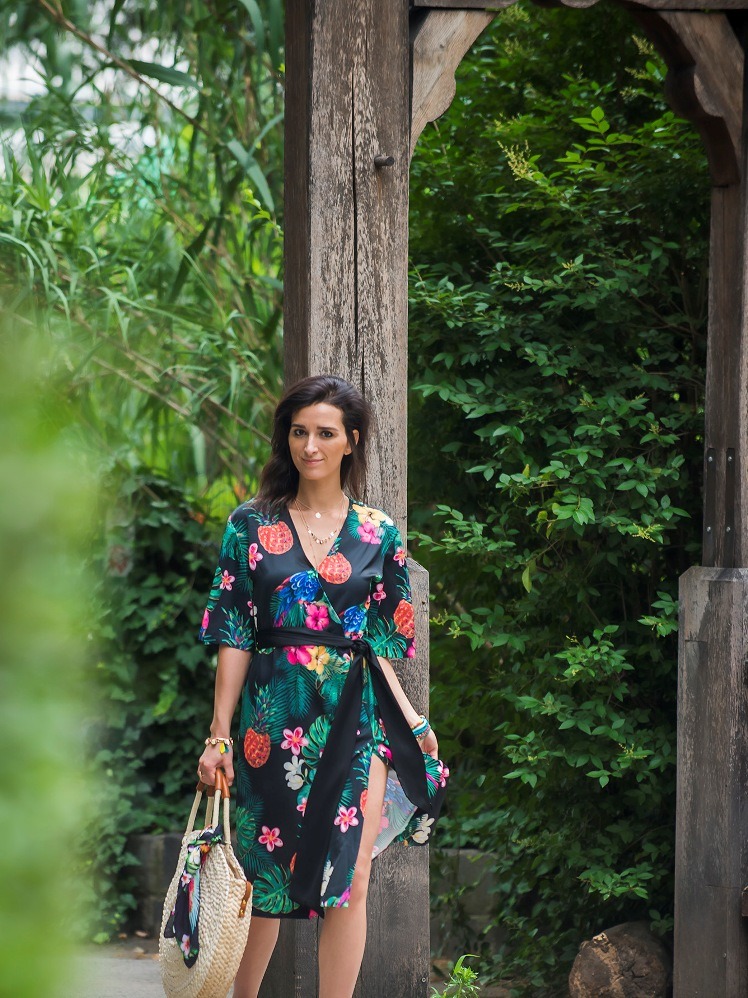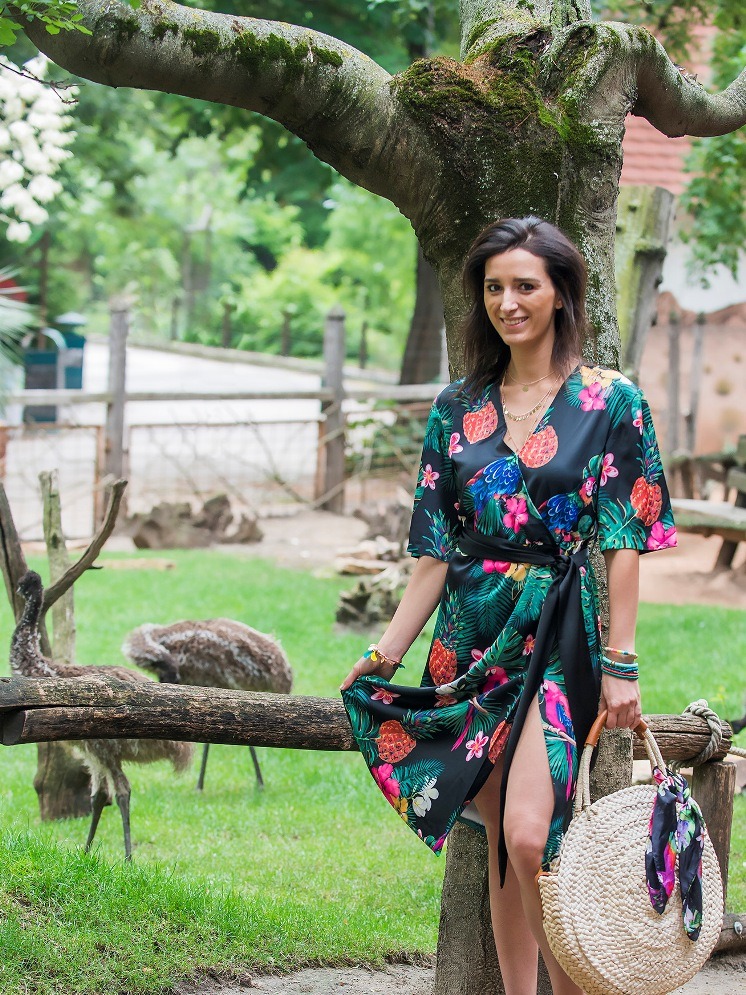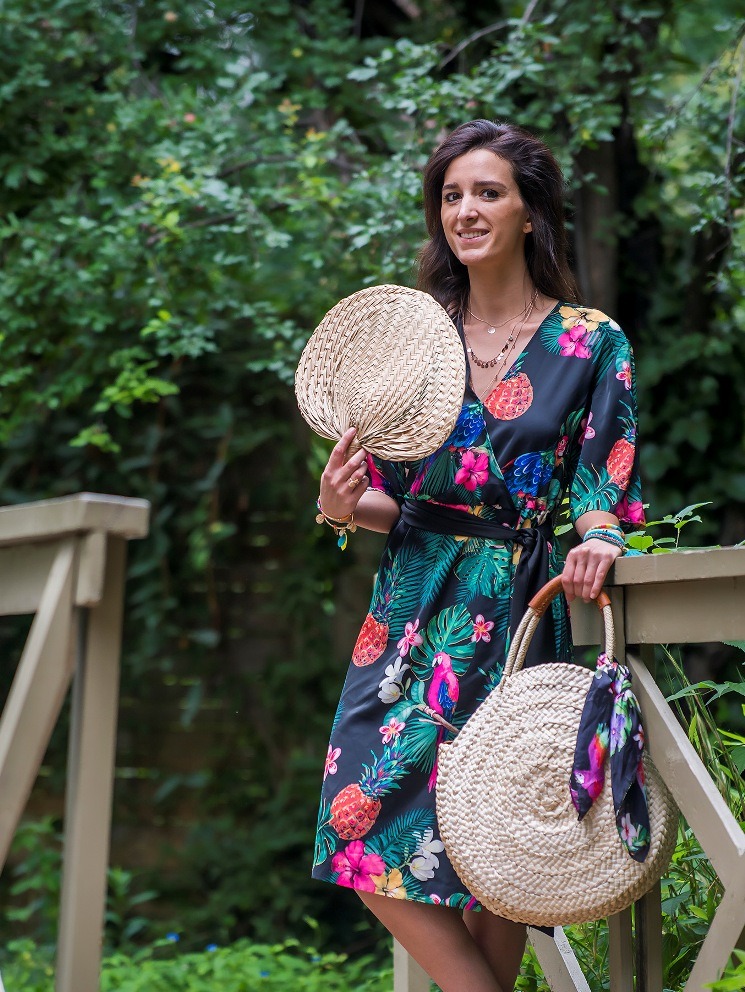 Photo: Vollmuth Krisztián
A postot támogatta az Arena Mall.