Forradalmat hirdettem az ősz ellen, méghozzá virágokkal. A virágmintás ruha szerencsére már évek óta nem csak tavasszal és nyáron, de igen, ősszel és télen is divatos. Én ezt abszolút támogatom, mert kevés nőiesebb viselet van, mint egy szirmok borította darab – és ez a tény évszaktól teljesen független. Az pedig szintén nyilvánvaló tény, hogy a bőrdzseki minden szettet egy csapásra feldob. Ha esetleg meguntad volna a szokásos feketét (ami egyszerűen képtelenség), válassz például egy ilyen, különlegesebb színű verziót! A leheletnyi őszi érzés kedvéért mindezt bőrből készült bokacsizmával párosítottam, hiszen tudjátok, az örök darabokba érdemes többet befektetni. Bár a táskát most hanyagoltam, izgalmas kiegészítőkből azért nem volt hiány. Egy vastag övvel a derekamra, többsoros nyakláncommal pedig a dekoltázsomra tereltem a figyelmet, ezzel erősítettem tovább a feminin hatást. Már csak néhány karkötő és egy eszméletlenül trendi, macskaszem formájú napszemüveg kellett, na meg persze egy gyönyörű háttér, amiről ezúttal a Lóvasút gondoskodott.
———————————
I announced a revolution against the autumn with flowers. The floral dress is very fashionable for years not just in spring and summer but yes, in autumn and winter too. I absolutely support it because there isn't more womanly wear than clothes with full of petals – and this fact is totally independent of seasons. And here is another obvious fact: the biker jacket makes every outfit much more cooler. If you got bored the usual black one (that is simply impossible), choose a more special colored version for example like this! Just for the little autumn vibe I paired them with leather made ankle boots because you know, eternal pieces worth more investment. Though I ignored the bag I didn't ignore the exciting accessories. I drew attention to my waist with a thick belt and to my decolletage with some multiple necklaces, that's how I strengthened the feminine effect more. Besides them I needed only some bracelets, very trendy cat eye sunglasses and of course a beautiful background that was the Horse Railway.
Dzseki / Jacket: Guess
Ruha / Dress: Guess
Csizma / Boots: Musette
Öv / Belt: Mohito
Nyakláncok / Necklaces: Promod
Karkötők / Bracelets: Promod
Napszemüveg / Sunglasses: Bershka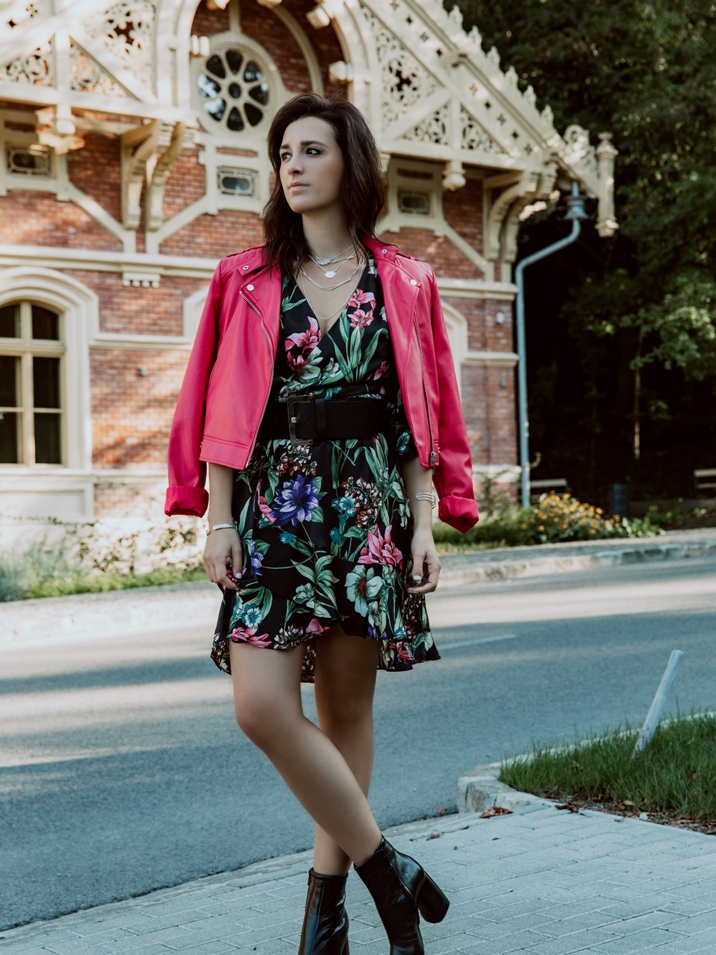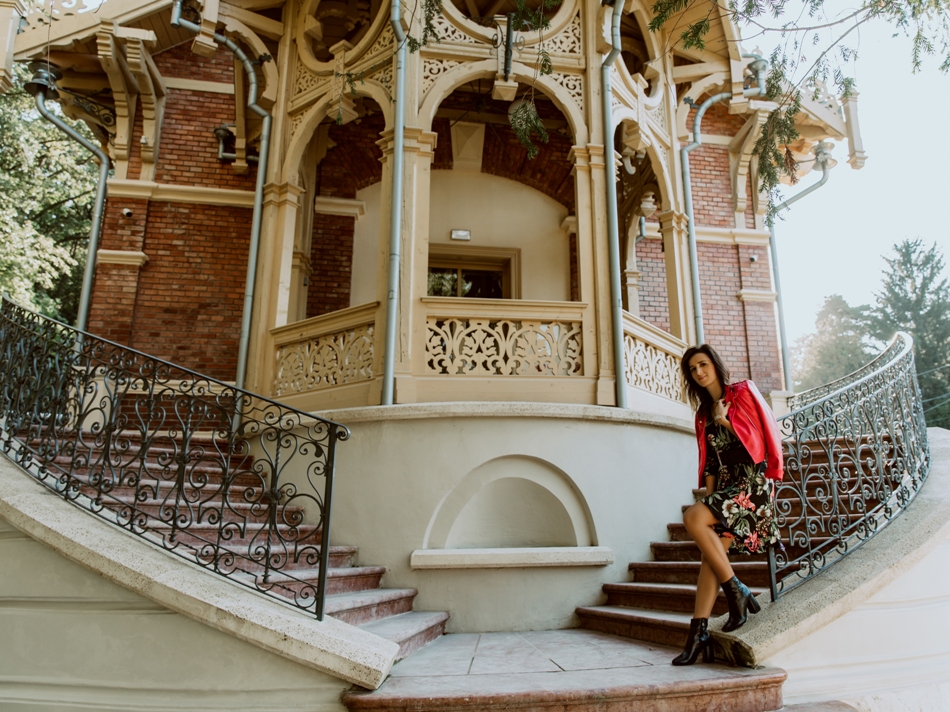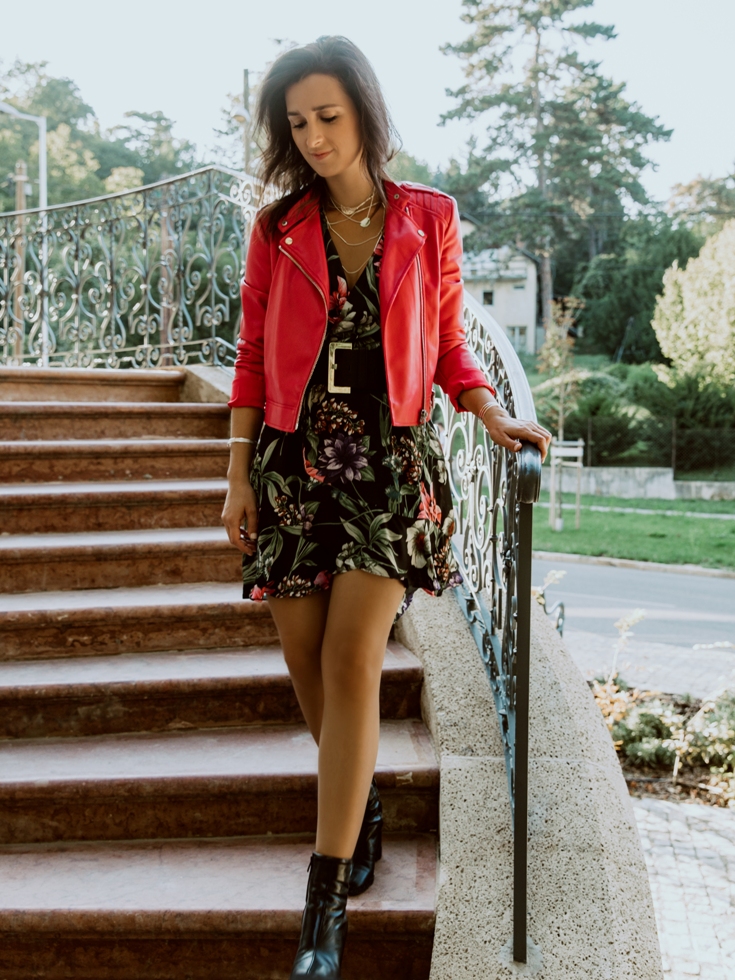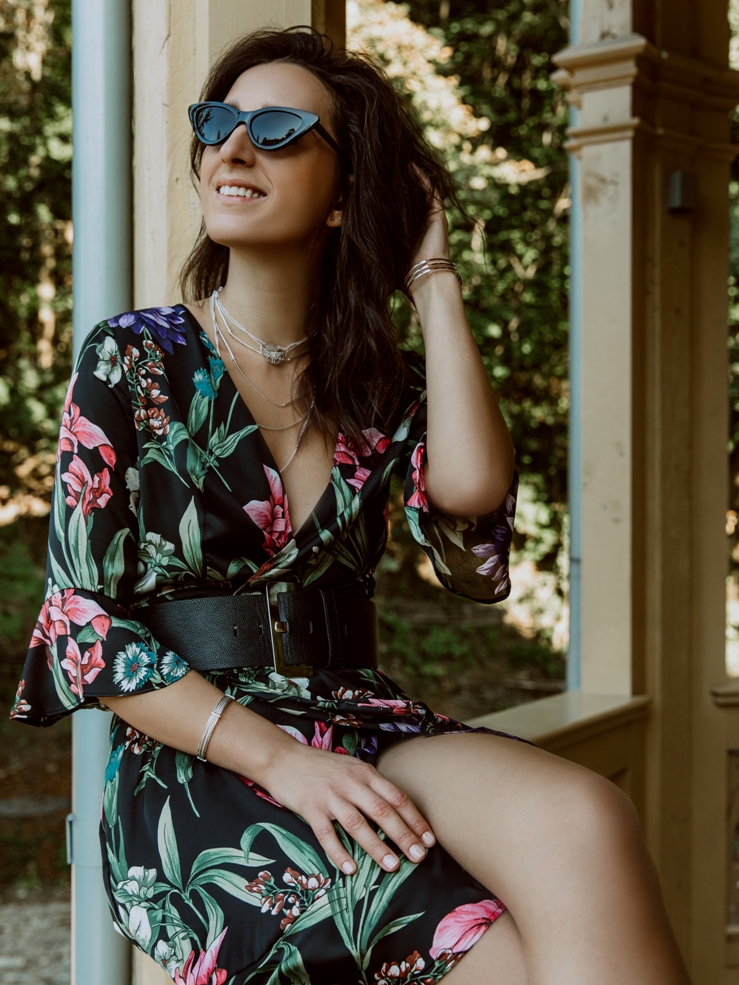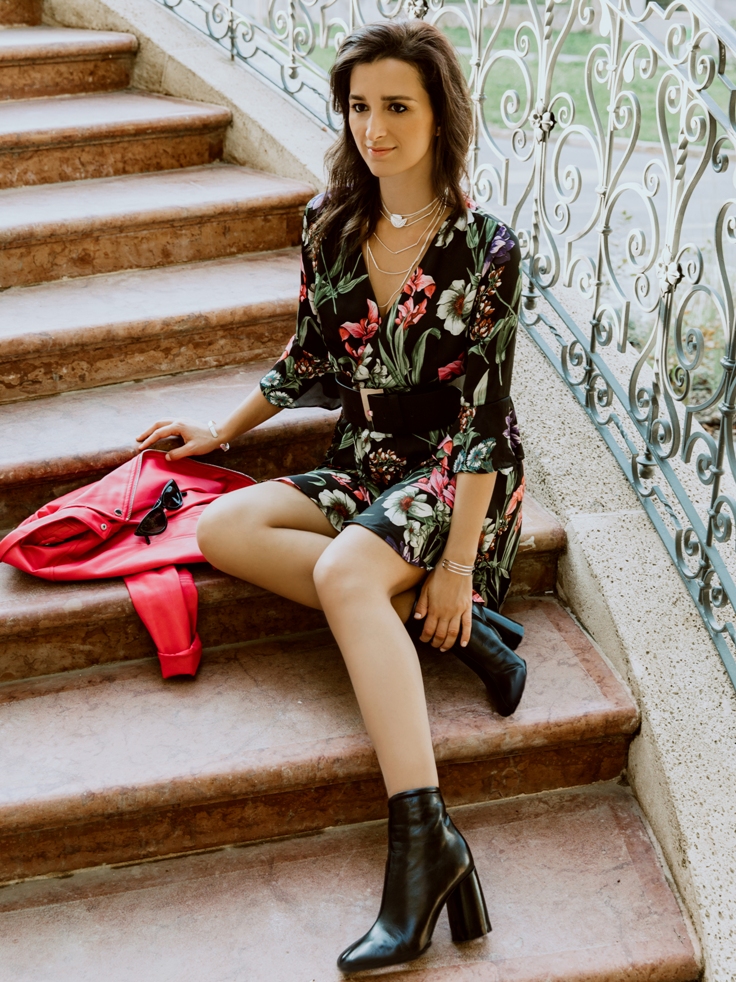 Photo: Bottka Rebeka
A postot támogatta az Arena Mall.